Gorton Center Global Leaders Program
The Slade Gorton International Policy Center's Global Leaders Program is a nine-month leadership-development program. The program, for up to 18 undergraduate (juniors and seniors), graduate-, and law-school students in the Puget Sound area. The mission of the program is to enhance students' ability to make a significant, positive impact in their respective fields of study. Students will have exposure to, and learn from, Senator Gorton's extensive public-service career and significant contributions to Washington State and the nation. It includes leadership lessons from his time as a Washington State legislator, House Majority Leader, 3-term Washington State Attorney General, 3-term U.S. Senator, 9/11 Commission member, Intellectual Property Commission member, and Washington State Redistricting Commission member. The program is designed to be cross-disciplinary and students of any academic major may apply. All program costs are covered.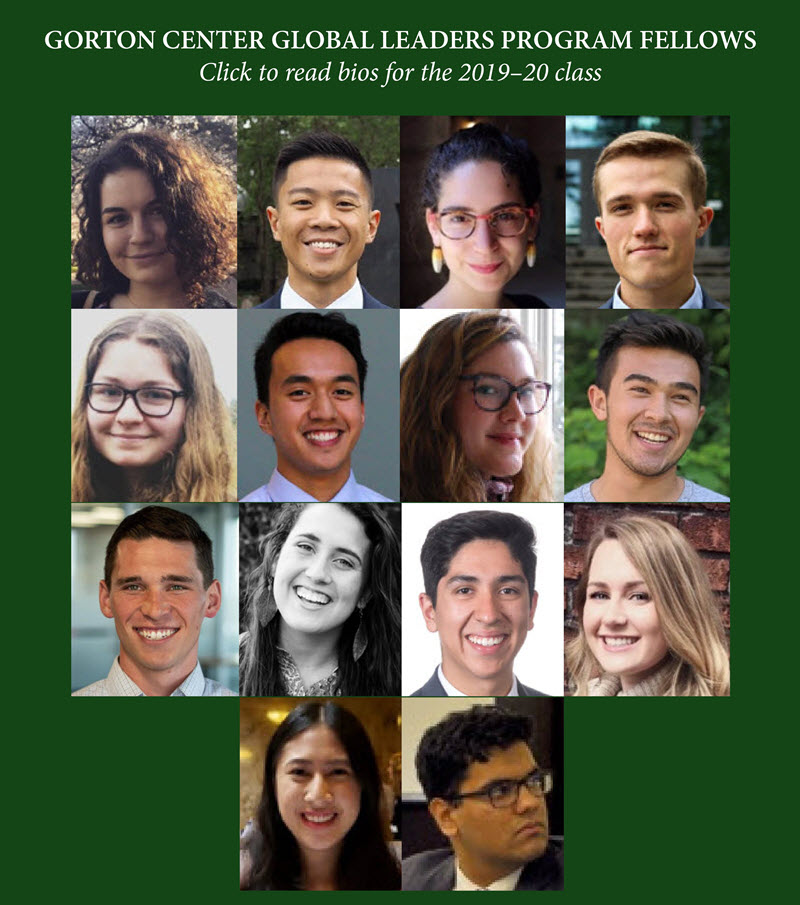 About the Program
" One key thing I've learned is that leadership is more than just moving a crowd, it's getting them to continue moving after you've left."
"I am incredibly inspired that individuals with such high intellectual caliber as Senator Gorton and the guest speakers want to share their personal leadership experiences with us. I hope to spend my life and career living up to the high standards of intellect, motivation and inspiration that I have witnessed in the Global Leaders Program."
The Global Leaders Program consists of three main components:
Leadership Roundtables
Student participants will meet for two hours, once a month, starting October 2018, from 3:30–5:30 p.m. in Seattle's University District at George Russell Hall. Each meeting will be a private roundtable session to discuss a leadership or public-policy issue with Senator Gorton and a guest speaker. Last year's speakers included:
Rich Ellings, President, The National Bureau of Asian Research

Bob Ferguson, Attorney General, Washington State
Ian Goodhew, Director Government Affairs, UW Medicine
Christine Gregoire, former Governor of Washington, currently CEO of Challenge Seattle

Julie Kays, Civil Litigation Attorney, Connelly Law
Sean O'Donnell, Chief Criminal Judge, King County Superior Court
Dave Reichert, U.S. Representative, 8th Congressional District of Washington

Jeff Roe, CEO, Premera
Cindi Williams, former Gates Foundation Director, currently Principal at HCM Strategies

Tony Williams, former Chief of Staff of Sen. Gorton, and currently CEO of Washington2 Advocates

Kim Wyman, Secretary of State, Washington State

Mentorship
Students will have the opportunity to receive personal career guidance from Senator Gorton and Gorton Center staff, and other leaders in the community. Through one-on-one meetings, career development training, and networking opportunities, the students will receive valuable career guidance and leadership training.
Policy Events
Students will be grouped into teams for the purposes of planning, organizing, and executing a policy event on a topic of their choice. Whether the program is a small roundtable or a large lecture, the event will be led by the students, under the guidance of the Gorton Center staff. Programs and panelists for 2017-18 were:
The Urban-Rural Divide & International Trade
Gary Locke, former Washington Governor, US Commerce Secretary, and Ambassador to China

Dan Newhouse, U.S. Representative (WA-04)
Homelessness in Seattle: Unsheltered Families
Jenny Durkan, Seattle Mayor

Marty Hartman, Executive Director, Mary's Place

John Kelly, Senior VP for Global Public Affairs & Social Impact at Starbucks
" The lessons I have learned in the Global Leaders program will serve me well throughout my career and my personal life."
"The values that the Global Leaders Program emphasized include hard work, public service, integrity, leadership and inspiration. This experience has motivated me to lead a career that is centered on those values."
Program Benefits
Invitations to Gorton Center and select National Bureau of Asian Research (NBR) events.
Networking and career development opportunities.
Access to Gorton Center and NBR publications.
Leadership and development materials specifically selected by Senator Gorton and Gorton Center staff.
School credit, pending approval from educational institutions.
Certificate of completion and letter of recommendation from Senator Gorton to participants who successfully complete the program.
Possible placement in a Washington State Congressional Office for any student who completes the program. Introduction and recommendation will be provided. Final decision up to individual offices.
A $1,000 scholarship to be used for further academic or professional pursuits to be awarded to an outstanding member of each cohort at the end of the year.
Ongoing invitations to future Gorton Center events after graduation.
"The Global Leaders Program has only added fuel to fire in my pursuits to study partnerships, collaboration and innovation."
Qualifications
Undergraduate (juniors and seniors), graduate, and law school students.
Desire to make a significant positive impact in your field of study.
Application Process and Deadline
The application period for the 2019–20 academic year is now closed.

Senator Gorton and Mariana Parks with the 2017-18 cohort of Gorton Global Leaders joined by guest speakers Toni and Cindi Williams
About the Slade Gorton International Policy Center
The Slade Gorton International Policy Center, founded in 2010, is a policy research center established in honor of former U.S. Senator Slade Gorton's 55+ years of public service to Washington State and the nation. The Center sponsors world-class policy research and works to inspire the next generation of leaders. It is a core, permanent program of NBR with three focus areas: policy research, fellowship and internship programs, and the Gorton History Program (archives). The Center's work promotes Senator Gorton's values of principled leadership, rigorous analysis, intellectual pursuit, integrity, inspiration, effectiveness, bipartisanship, and public service. Learn more.