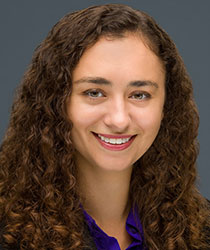 Ashley Johnson is an Assistant Director with the Energy and Environmental Affairs group at NBR.
In this role, she manages and oversees NBR's initiatives on energy security, environmental sustainability, and economic development. Her research interests include environmental sustainability in China and South Asia, energy security, and economic trends in the Asia-Pacific. Her expertise has been featured in various media outlets, including Nikkei Asian Review, the Guardian, the Associated Press, and BBC World News. Prior to joining NBR, she interned in the Consular Section of the Consulate General of the United States in Shanghai, China.
Ms. Johnson received her MA from the Johns Hopkins School of Advanced International Studies, with concentrations in international economics and energy, resources, and the environment. She also holds a graduate certificate in Chinese-American Studies from the Hopkins-Nanjing Center and a BA in International Studies from Southwestern University. Ms. Johnson received the Critical Language Scholarship to study Mandarin and attended Hamilton College's intensive language program, Associated Colleges in China.