Olivia Truesdale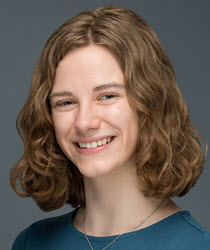 Olivia Truesdale was a Project Associate with the Political and Security Affairs group at NBR. In this position, she supported the Strategic Asia program, the Maritime Awareness Project, the U.S.-ROK Next Generation Leaders program, research, grant writing, and events. Ms. Truesdale was previously an intern for PSA.
Prior to joining NBR, Ms. Truesdale interned at the U.S. Embassy in Seoul, South Korea, and studied abroad at Yonsei University. She has been awarded two Critical Language Scholarships to study Korean.
Ms. Truesdale graduated with a BA in foreign languages from Scripps College. She wrote her senior thesis in Spanish about how global and local cultural flows interact. She specifically explored two cases: the representation of masculinity in a Korean drama and the representation of Islam in a Spanish telenovela. She was previously an editor at the Claremont Journal of International Relations, the student-run IR journal of the Claremont Colleges. Ms. Truesdale speaks Korean and Spanish at an advanced level and has an intermediate proficiency in Italian.
Publications