U.S.-ROK Relations in the Year of the Ox
with Marc Knapper
On March 18, 2021, NBR held a President's Circle Dialogue with U.S. Deputy Assistant Secretary of State for Korea and Japan, Mr. Marc Knapper.
NBR President Roy Kamphausen opened with his top six Asia-related issues for the month of March. His half-hour rundown touched on developments in post-coup Burma, the strategic importance of the Pacific Island Countries in the era of great-power competition, and an increasingly tight media atmosphere in China for foreign journalists.
In the second half-hour, he engaged in discussion with Marc Knapper, U.S. Deputy Assistant Secretary for Korea and Japan, Bureau of East Asian and Pacific Affairs, who called in from Seoul. DAS Knapper shared several highlights and things to watch for on Secretary of State Antony Blinken's and Secretary of Defense Lloyd Austin's recent 2+2 ministerial meeting with their Japanese and South Korean counterparts. The subsequent Q&A discussion saw participants seeking to understand the strategic objectives underpinning Beijing's "vaccine diplomacy," the potential expansion of the Quadrilateral Security Dialogue to include other Asian allies and partners, and the prospects for the 2021 Tokyo Summer Olympics. The hour-long event was held virtually, with guests joining from across the world, from Seoul to Tokyo and Washington, D.C.
---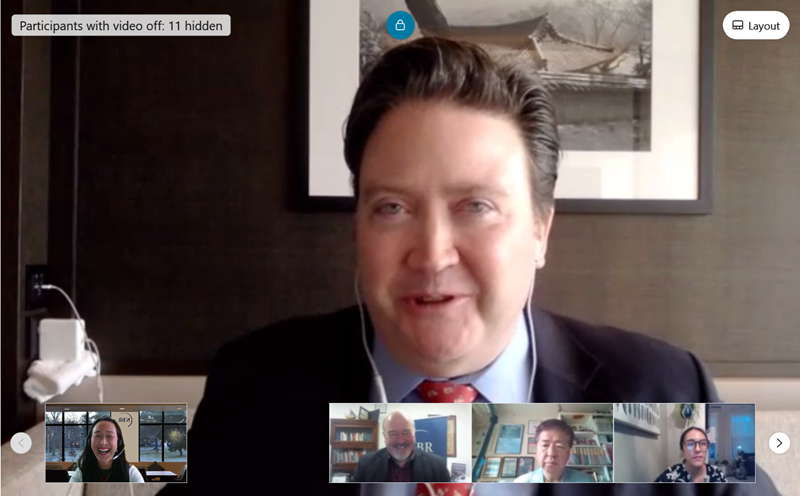 ---
The President's Circle provides a monthly forum for supporters to engage with U.S. affairs in Asia and advances NBR's mission of promoting balanced perspectives and research.
Contact [email protected] for more information on President's Circle membership and benefits.