Contact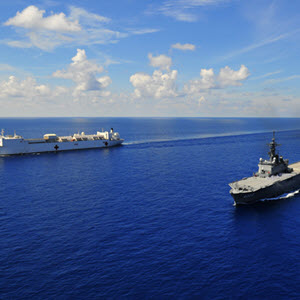 Report | Jun 16, 2020
The Future of U.S. Strategy in the Indo-Pacific
On July 17, 2020, NBR held a virtual discussion accompanying the release of the report "A New U.S. Strategy for the Indo-Pacific" by Roger Cliff. The Indo-Pacific is a region of critical importance to the United States, but one in which the country is likely to face major challenges in coming years. These challenges include China's rising power, North Korea's nuclear program, the spread of authoritarianism, and global climate change. However, the Indo-Pacific also presents major strategic opportunities for the United States. This report presents a comprehensive and coherent U.S. strategy for the region.
Agenda
INTRODUCTION
Roy D. Kamphausen, The National Bureau of Asian Research
---
PANEL DISCUSSION

Moderator
Jennifer Staats, United States Institute of Peace

Panel Speakers
Roger Cliff, Independent analyst
Tom Mahnken, Center for Strategic and Budgetary Assessments
---
Author Bios

Roger Cliff conducts research on international relations in the Indo-Pacific. He has worked for the Center for Naval Analyses, Atlantic Council, Project 2049 Institute, RAND Corporation, and Office of the Secretary of Defense. He holds a PhD in international relations from Princeton University, an MA in Chinese studies from the University of California–San Diego, and a BS in physics from Harvey Mudd College.
Jennifer Staats is the Director of East and Southeast Asia Programs at the U.S. Institute of Peace (USIP), where she oversees the USIP's work on Burma, China, and North Korea. She previously spent time at the Office of the Secretary of Defense and the Harvard Kennedy School's Belfer Center for Science and International Affairs. She received her PhD from Harvard University, her MPA from Princeton University's Woodrow Wilson School, and her BA from the University of the South (Sewanee).
Thomas Mahnken is the President and Chief Executive Officer of the Center for Strategic and Budgetary Assessments. He currently serves as a member of the congressionally mandated National Defense Strategy Commission and the Board of Visitors of Marine Corps University. He received a BA from the University of Southern California (summa cum laude) and an MA and PhD in international affairs from Johns Hopkins University's School of Advanced International Studies.
Roy D. Kamphausen is President of the National Bureau of Asian Research (NBR). In April 2018, he was appointed by Senate Majority Leader Mitch McConnell to be a commissioner on the U.S.-China Economic and Security Review Commission. Prior to joining NBR, Mr. Kamphausen served as a career U.S. Army officer. He holds a BA in political science from Wheaton College and an MA in international affairs from Columbia University