Taiwan's Post-Covid-19 Economic Trajectory
Keynote Speaker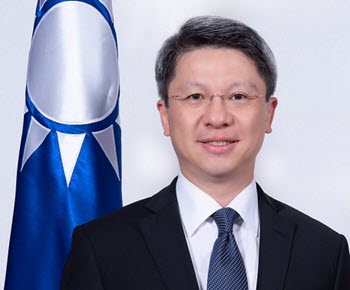 Daniel Kuo-ching Chen
Director General of Taipei Economic and Cultural Office (TECO) in Seattle
---
While the world continues to face significant challenges arising from the ongoing spread of Covid-19, Taiwan recently marked its 200th consecutive day without a single domestically transferred Covid case. Taiwan's handling of the pandemic, coupled with strong exports from its high-tech manufacturing sector, has allowed it to suffer less economic damage than most countries. Meanwhile, strong U.S.-Taiwan trade throughout the pandemic has resulted in Taiwan becoming America's ninth largest trading partner, up one spot from last year.
In her inauguration address earlier this year, President Tsai outlined several initiatives to stimulate the economy and presented Taiwan as a viable alternative to China for global supply chains. Since then, many high-level officials in the United States and Taiwan, including President Tsai, have come out in support of a bilateral free-trade agreement. President Tsai also recently lifted restrictions on imports of U.S. pork and beef, removing a key barrier to trade negotiations and providing a pathway for improved U.S.-Taiwan trade relations.
On Tuesday, November 17, NBR held a virtual discussion with Director General Daniel Kuo-ching Chen, Vinod Aggarwal, Lotta Danielsson, Shelley Rigger, Roy D. Kamphausen, and Michael Wills on the key drivers shaping Taiwan's post-Covid-19 economic trajectory and the future of U.S.-Taiwan economic relations.
Agenda
---
WELCOME REMARKS
---
Roy Kamphausen, The National Bureau of Asian Research
---
KEYNOTE REMARKS
---
Director General Daniel Kuo-ching Chen, Taipei Economic and Cultural Office in Seattle
---
DISCUSSION WITH DIRECTOR CHEN
Moderator
Michael Wills, The National Bureau of Asian Research
---
PANEL DISCUSSION: Taiwan's Post-Covid-19 Economic Trajectory
---
Panelists
Vinod Aggarwal, University of California, Berkeley
Lotta Danielsson, US-Taiwan Business Council
Shelley Rigger, Davidson College
Moderator
Michael Wills, The National Bureau of Asian Research
---
AUDIENCE Q&A WITH PANELISTS
---
Moderator
Michael Wills, The National Bureau of Asian Research
---
About the Speakers
---
Keynote:
Daniel Kuo-ching Chen is currently Director General of the Taipei Economic and Cultural Office (TECO) in Seattle. Prior to this, he was Deputy Secretary-General of the Taiwan Council for U.S. Affairs seconded to the Foreign Minister's Office. DG Chen served as Deputy Director in the Political Division at the Taipei Economic and Cultural Representative Office (TECRO) in the United States. He also served the section chief in the Department of Northern American Affairs of the Ministry of Foreign Affairs (MOFA) and was awarded the Model Civil Servant of MOFA in 2011. DG Chen served as senior consular officer at TECO in Seattle as well. He was a platoon leader as a second lieutenant in the Republic of China Army and received the Excellent Mandatory Service Officer award in 1997. DG Chen earned a master's of science in foreign service with an international business diplomacy honorary certificate from Georgetown University and a BA with valedictorian in diplomacy from National Chengchi University, Taiwan.
---
Vinod "Vinnie" Aggarwal is Travers Family Senior Faculty Fellow and Professor in the Travers Department of Political Science, Affiliated Professor at the Haas School of Business, and Director of the Berkeley Asia Pacific Economic Cooperation Study Center (BASC) at the University of California, Berkeley. He is also editor-in-chief of the journal Business and Politics. He has held numerous fellowships and consults regularly with multinational corporations on strategy, trade policy, and international negotiations. Dr. Aggarwal has authored or edited 21 books; his latest is Responding to the Rise of China. He has also published over 120 articles and book chapters. His current research examines comparative regionalism, industrial policy in cybersecurity, disaster management, and the political economy of great power competition. Dr. Aggarwal received his BA from the University of Michigan and his MA and PhD from Stanford University.
Lotta Danielsson is the Vice President of the US-Taiwan Business Council, where she is responsible for the day-to-day operations of the organization. Additionally, she has planned the annual US-Taiwan Defense Industry Conference—which serves as an important platform for bilateral dialogue on Taiwan's national security and defense needs—since its inception in 2002. Ms. Danielsson has served as vice president since 2003, when she was promoted from Director of Corporate Affairs, a position she had held since joining the council in 2000. Previously she worked as a consultant and marketer for the Beijing Sun-King Paper Company, where she helped launch a new paper brand into the Beijing market. She has lived, studied, and worked in Asia, Europe, and North America and is a native-level speaker of Swedish and English. She holds an International MBA (Chinese Track) from the University of South Carolina.
Roy Kamphausen is President of the National Bureau of Asian Research (NBR). As a specialist on a range of U.S.-Asia issues, he has led and contributed substantively to NBR's research initiatives and has served as author, contributing author, or co-editor to numerous publications. His areas of expertise include the People's Liberation Army, U.S.-China defense relations, East Asian security issues, innovation, and intellectual property protection. Prior to joining NBR, Mr. Kamphausen served as a career U.S. Army officer. He holds a BA in political science from Wheaton College and an MA in international affairs from Columbia University. He studied Chinese at both the Defense Language Institute and Beijing's Capital Normal University.
Shelley Rigger is the Brown Professor of Political Science at Davidson College. She is the author of Why Taiwan Matters: Small Island, Global Powerhouse, as well as two books on Taiwan's domestic politics—Politics in Taiwan: Voting for Democracy and From Opposition to Power: Taiwan's Democratic Progressive Party. Dr. Rigger also authored the monograph Taiwan's Rising Rationalism: Generations, Politics, and 'Taiwan Nationalism,' which was published by the East-West Center in Washington, D.C., as well as numerous articles on Taiwan's domestic politics, the national identity issue in Taiwan-China relations, and related topics. She has a PhD from Harvard University and a BA Princeton University. Her current research studies the effects of cross-strait economic interactions on the Taiwan people's perceptions of mainland China.
Michael Wills is Executive Vice President at the National Bureau of Asian Research (NBR). He manages all aspects of NBR's financial and business operations, including program and business development and corporate strategic planning, and serves as secretary to the Board of Directors. His research expertise includes geopolitics, international security, and the international relations of Asia, with a particular interest in China's relations with Southeast Asia. Mr. Wills is co-editor or contributing editor of eleven Strategic Asia volumes and several other edited volumes on Asian security and is a member of the Asia Policy journal's editorial advisory committee. He holds a BA (Honors) in Chinese studies from the University of Oxford.
---
Banner photo by SAM YEH/AFP via Getty Images