Contact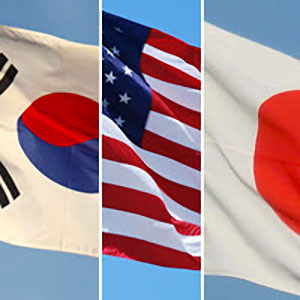 Brief | Jan 29, 2018
Stability through Unity
The Vital Role of the U.S.-Japan-Korea Trilateral Relationship
On January 29, 2018, the Foreign Affairs Congressional Staff Association (FACSA) and The National Bureau of Asian Research (NBR) held an informational briefing on the trilateral relationship between the United States and its key allies in Northeast Asia, Japan and South Korea. As North Korea provocations increase incentives for Washington, Tokyo and Seoul to collaborate, how can the U.S. facilitate these connections? Our expert panelists provided a brief overview of the importance of and challenges for the relationship, an update on the state of trilateral ties, and a look at how Congress can assist cooperation in this vital relationship.
Speaker Bios
Emma Chanlett-Avery is a Specialist in Asian Affairs in the Foreign Affairs, Defense, and Trade division of the Congressional Research Service. She focuses on security issues in the region, including U.S. relations with Japan, the Korean Peninsula, Thailand, and Singapore.
Ms. Chanlett-Avery joined CRS in 2003 through the Presidential Management Fellowship, with rotations in the State Department on the Korea Desk and at the Joint U.S. Military Advisory Group in Bangkok, Thailand. She also worked in the Office of Policy Planning as a Harold Rosenthal Fellow.
Ms. Chanlett-Avery received an MA in international security policy from the School of International and Public Affairs at Columbia University and her BA in Russian studies from Amherst College.
Roy D. Kamphausen is Senior Vice President for Research at The National Bureau of Asian Research (NBR). Mr. Kamphausen is an adjunct associate professor at Columbia University's School of International and Public Affairs and a senior adviser on East Asia for the University of Connecticut's Office of Global Affairs. He lectures regularly at leading U.S. military institutions, including the United States Military Academy and the U.S. Army War College. Prior to joining NBR, Mr. Kamphausen served as a career U.S. Army officer. As a China foreign area officer, his career included assignments as China policy director in the Office of the Secretary of Defense, China strategist for the chairman of the Joint Chiefs of Staff, and a military attaché at the U.S. Embassy in Beijing.
Mr. Kamphausen holds a BA in Political Science from Wheaton College and an MA in International Affairs from Columbia University. He studied Chinese at both the Defense Language Institute and Beijing's Capital Normal University.
---