Resetting Relationships in Northeast Asia: How Much Is Really Required?
with Heino Klinck
On March 9, 2021, NBR held a bonus session of the President's Circle dialogue, with the full 45-minute period dedicated to discussion and Q&A with special guest, current NBR Senior Advisor, and recent U.S. Deputy Assistant Secretary of Defense for East Asia, Colonel Heino Klinck (U.S. Army, ret.).
Roy kicked off the night with a series of questions related to Mr. Klinck's rich global experience during his distinguished military career, from a young officer in the Middle East to a China and Europe Foreign Area Officer, and his recent time as DAS from 2019 to 2021. The discussion ranged from the standing U.S. force posture in Northeast Asia with respect to China to the state of relations with key regional partners—including Japan, South Korea, Taiwan, and the Pacific Island Countries. During the Q&A session that followed, several participants offered comments and asked insightful questions on issues such as how to address Chinese economic influence in key partner countries and the role of regional actors in the event of a Chinese invasion of Taiwan. The hour-long event was held virtually with guests tuning in from Seoul, Tokyo, Washington, D.C., and Seattle.
---
"I've known Heino for 23 years. We met in Beijing when he first arrived for language study and I was an attaché. He is the most international army officer I've ever known."
— Roy Kamphausen

---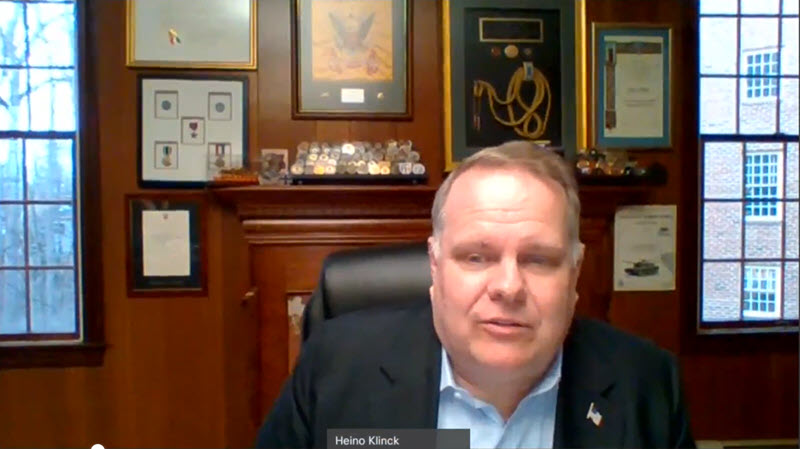 ---
NOTE: Roy will be presenting his usual "Top 7" issues update at the March 18 session.