Insider's Guide to Russia, China, and U.S. Engagement in Asia
On May 5, 2021, the National Bureau of Asian Research (NBR) Chairman's Council Virtual Roundtable featured Jon M. Huntsman, Jr., former two-time governor of the State of Utah and the only American to have been ambassador to both China and Russia. He was also ambassador to Singapore, deputy U.S. trade representative, and a U.S. presidential candidate in the 2012 election. Governor Huntsman called in from Detroit, where he recently joined Ford Motor Company as Vice Chair, Policy. The discussion was moderated by NBR board member LTG (ret) Charles W. Hooper, calling in from Washington, D.C., and covered how the strategic competition between the United States, China, and Russia is shaping the Indo-Pacific landscape, U.S.-China rivalry, the U.S.-India relationship, and the prospects for a denuclearized Korean Peninsula. The hour-long event concluded with a vibrant "lightning round" of questions from participants.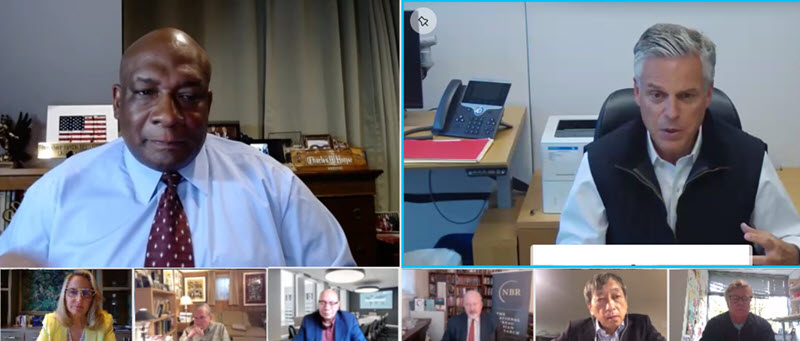 The Chairman's Council offers an off-the-record forum to engage with leaders on a substantive level, aligned with NBR's mission to help decision-makers better understand Asia and make concrete, actionable choices. Contact us to learn more about Chairman's Council membership and benefits. We welcome your support and engagement!