Contact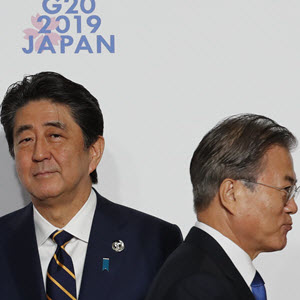 Brief | Oct 9, 2019
Deteriorating Japan-South Korean Relations
Why Strife between U.S. Allies Matters for U.S. Policy in Asia
On Wednesday, October 9, 2019, the National Bureau of Asian Research and the Korea Foundation in conjunction with the U.S.-Japan Caucus, the Congressional Caucus on Korea, and the Foreign Affairs Congressional Staff Association (FACSA) held an informational briefing on the United States' trilateral relationship with Japan and South Korea. The discussion unpacked recent tensions between Japan and South Korea, each country's views of the issues, and how tensions affect U.S. strategic economic and security interests with the two countries, as well as in the broader region.
Participants
Panelists
Shihoko Goto, Deputy Director for Geoeconomics and Senior Associate for Northeast Asia Program, Wilson Center
Frank Jannuzi, President and CEO, The Maureen and Mike Mansfield Foundation
Scott Snyder, Director of the U.S.-Korea Policy Program, Council on Foreign Relations
Moderator
Dan Aum, Senior Director for Public Affairs, The National Bureau of Asian Research
Speaker Bios
Shihoko Goto is the Deputy Director for Geoeonomics and Senior Northeast Asia Associate at the Woodrow Wilson Center's Asia Program. She specializes in trade relations and economic issues across Asia, and is also focused on developments in Japan, South Korea, and Taiwan. She is also a contributing editor to the Globalist, and a fellow of the Mansfield Foundation/Japan Foundation U.S.-Japan Network for the Future for 2014 to 2016. Prior to joining the Wilson Center, she spent over ten years as a journalist writing about the international political economy with an emphasis on Asian markets. As a correspondent for Dow Jones News Service and United Press International based in Tokyo and Washington, she has reported extensively on policies impacting the global financial system as well as international trade. She currently provides analysis for a number of media organizations. She was also formerly a donor country relations officer at the World Bank. She received the Freeman Foundation's Jefferson journalism fellowship at the East-West Center and the John S. and James L. Knight Foundation's journalism fellowship for the Salzburg Global Seminar. She is fluent in Japanese and French. She received an M.A. in international political theory from the Graduate School of Political Science, Waseda University, Japan, and a B.A. in Modern History, from Trinity College, University of Oxford, UK.
Frank Jannuzi is the President and CEO of The Maureen and Mike Mansfield Foundation. Frank Jannuzi joined the Mansfield Foundation as President and Chief Executive Officer in April 2014. He previously served as Deputy Executive Director (Advocacy, Policy and Research) at Amnesty International, USA. There he shaped and promoted legislation and policies to advance universal human rights, protect individuals and communities at risk, and free prisoners of conscience. From 1997 to 2012 Mr. Jannuzi was Policy Director, East Asian and Pacific Affairs, for the U.S. Senate Foreign Relations Committee, where he advised Committee Chairmen Joseph Biden and John Kerry on a range of security, political, economic, and human rights issues pertinent to U.S. relations with East Asia. During his tenure with the Foreign Relations Committee he also was a Hitachi Fellow of the Council on Foreign Relations from 2006 to 2007, serving as a visiting lecturer at Keio University and a visiting scholar at the Institute of International Policy Studies in Tokyo. Early in his career he served for nine years as an analyst in the U.S. Department of State's Bureau of Intelligence and Research.
Scott Snyder is Senior Fellow for Korea Studies and Director of the Program on U.S.-Korea policy at the Council on Foreign Relations (CFR). His program examines South Korea's efforts to contribute on the international stage; its potential influence and contributions as a middle power in East Asia; and the peninsular, regional, and global implications of North Korean instability. Mr. Snyder is the author of South Korea at the Crossroads: Autonomy and Alliance in an Era of Rival Powers (January 2018) and coauthor of The Japan-South Korea Identity Clash: East Asian Security and the United States (May 2015) with Brad Glosserman. He is also the coeditor of North Korea in Transition: Politics, Economy, and Society (October 2012), and the editor of Global Korea: South Korea's Contributions to International Security (October 2012) and The U.S.-South Korea Alliance: Meeting New Security Challenges (March 2012). Mr. Snyder served as the project director for CFR's Independent Task Force on policy toward the Korean Peninsula. He currently writes for the blog Asia Unbound.
Dan Aum is the Senior Director of Public Affairs for NBR's Washington, D.C., office. He leads NBR's engagement with the U.S. Congress and the media. He works closely with NBR's research group leaders and NBR's executive team to develop and implement nonpartisan outreach strategies that integrate congressional needs and perspectives. Mr. Aum comes to NBR from Capitol Hill, where he managed a portfolio of thematic and regional issues related to foreign policy, international law, and human rights on the Tom Lantos Human Rights Commission. Previously, at Robert F. Kennedy Human Rights, Mr. Aum was on a strategic litigation team that brought cases before international and regional bodies, and led policy initiatives that involved regular engagement with government bodies and the media. He holds a JD from the George Washington University Law School and a BA in Philosophy from Baylor University.
---
The U.S.-Japan Congressional Caucus is bipartisan congressional organization with more than 100 members who are dedicated to strengthening U.S.-Japan relations. The caucus aims to facilitate bilateral collaboration on matters of common interest between our two countries, including trade, foreign direct investment, regional stability, military cooperation, energy, technological development, and the environment. The Caucus collaborates with other entities and stakeholders that share this same objective.
FACSA is an officially recognized, bipartisan and bicameral organization tasked with providing networking opportunities, career guidance, briefings on key topics and other engagements for staffers to learn and grow as foreign policy professionals.
NBR is a nonprofit, nonpartisan research institution dedicated to informing and strengthening policy in the Asia-Pacific. NBR conducts advanced independent research on strategic, political, economic, globalization, health, and energy issues affecting U.S. relations with Asia.
The Korea Foundation is a non-profit public diplomacy organization established in 1991 to promote a better understanding of Korea and strengthen friendships in the international community. The Foundation carries out various projects for exchange between the Republic of Korea and foreign countries to cultivate mutual understanding.
---