Containing Covid-19: Biosurveillance in China and Taiwan
Keynote Speaker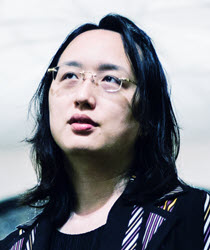 Digital Minister of Taiwan Audrey Tang
Download slides to accompany Minister Tang's remarks: "Digital Social Innovation."

Event Video
In order to effectively contain the Covid-19 pandemic, governments around the world are increasingly turning to technology to track and monitor the spread of infection across society. Both China and Taiwan were early adopters of biosurveillance technology in order to limit the spread of Covid-19. The rapid adoption of these technologies will have implications for personal security, domestic governance, and global policy as other countries look to use similar systems to stop the spread of Covid-19, and potentially other uses in the future. On August 18, 2020, NBR held a virtual discussion with Digital Minister Audrey Tang, Sheena Chestnut Greitens, and Maya Wang on how the use of technology and biosurveillance to combat Covid-19 in China and Taiwan intersects with human rights, national security, and civil society.
Agenda
WELCOME REMARKS
Roy D. Kamphausen, The National Bureau of Asian Research
KEYNOTE ADDRESS
Audrey Tang, Digital Minister of Taiwan
EXPERT DISCUSSION
Moderator:
Melissa Newcomb, The National Bureau of Asian Research
Panelists:
Sheena Chestnut Greitens, University of Texas at Austin
Audrey Tang, Executive Yuan
Maya Wang, Human Rights Watch
Speaker Bios
Sheena Chestnut Greitens is an Associate Professor at the Lyndon B. Johnson School of Public Affairs at the University of Texas at Austin, and a faculty affiliate at the Clements and Strauss Centers. Her work focuses on East Asia, American national security, and authoritarian politics and foreign policy. Her work on China and North Korea has appeared in academic journals and edited volumes in English, Chinese, and Korean, as well as in major media outlets. Dr. Greitens is also a nonresident senior fellow at the Brookings Institution, an adjunct fellow with the Korea Chair at the Center for Strategic and International Studies, an associate in research at the Fairbank Center for Chinese Studies at Harvard University, and a member of the Digital Freedom Forum at the Center for a New American Security.
Roy D. Kamphausen is President of the National Bureau of Asian Research (NBR). As a specialist on a range of U.S.-Asia issues, he has led and contributed substantively to NBR's research initiatives and has served as author, contributing author, or co-editor to numerous NBR publications. His areas of expertise include China's People's Liberation Army, U.S.-China defense relations, East Asian security issues, innovation, and intellectual property protection. Prior to joining NBR, Mr. Kamphausen served as a career U.S. Army officer. He holds a BA in political science from Wheaton College and an MA in international affairs from Columbia University. He studied Chinese at both the Defense Language Institute and Beijing's Capital Normal University.
Melissa Newcomb is a Senior Project and Grants Manager with the Political and Security Affairs group at the National Bureau of Asian Research (NBR). In this position, she manages projects related to Taiwan, cross-strait relations, U.S.-China relations, and the PLA Conference. Prior to joining NBR, Ms. Newcomb was the research manager at the Global Taiwan Institute and associate editor of the Global Taiwan Brief. Ms. Newcomb holds an MA in international affairs with a focus on East Asia and Conflict Resolution from the School of International Service at American University. She also holds a BA from St. Mary's College of Maryland with a double major in English literature and Asian studies.
Minister Audrey Tang joined the Executive Yuan in 2016. She is commonly known as the Digital Minister and leads Taiwan's innovations in governance and technology. The innovative digital strategies she leads are essential to Taiwan's success in containing Covid-19 and avoiding a lockdown. As one of the world's top open-source software hackers, Minister Tang previously worked as a consultant for numerous technology companies, including Apple. As a supporter of open governance, she is also actively involved with g0v (gov-zero), a community dedicated to creating tools for civil society.
Maya Wang is a Senior China Researcher for Human Rights Watch and has written extensively on the use of torture, arbitrary detention, human rights defenders, civil society, and the use of technology in mass surveillance and social control in China. Her latest report "China's Algorithms of Repression: Reverse Engineering a Xinjiang Police Mass Surveillance App" and her series of press releases on China's mass biometric collection and artificial intelligence from 2017 have contributed to a wave of international attention on China's mass surveillance practices in Xinjiang, elsewhere in China, and globally.