Contact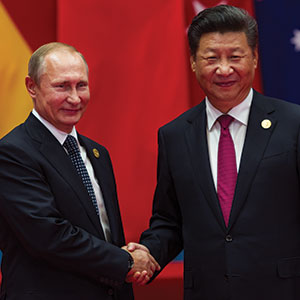 Book | Oct 4, 2018
Axis of Authoritarians
Implications of China-Russia Cooperation
On Wednesday, October 10, 2018, NBR held a discussion on the growing cooperation between China and Russia and the emergence of an authoritarian axis in multiple domains. Speakers assessed the challenges that China-Russia cooperation poses to the United States and its partners and provided a thorough assessment of policy options available to the United States to strengthen its position and defend its interests.
This discussion marked the release of the volume Axis of Authoritarians: Implications of China-Russia Cooperation.
The event featured a panel of contributors to the volume discussing the strategic context of China-Russia relations, the drivers and brakes on cooperation, options for the United States to respond, and likely future scenarios. A second panel explored regional views of Sino-Russian cooperation, including perspectives from China, Russia, and Japan.
Agenda
---
OPENING REMARKS
Richard J. Ellings, President and Co-founder, NBR
---
CHINA-RUSSIA COOPERATION: IMPLICATIONS AND U.S. POLICY OPTIONS
Chair
Nadège Rolland, Senior Fellow, NBR
Speakers
The Strategic Context of China-Russia Relations
Richard J. Ellings, President and Co-founder, NBR
China-Russia Relations in Energy, Trade, and Finance
Charles Ziegler, Professor of Political Science and Distinguished University Scholar, University of Louisville
China-Russia Cooperation: How Should the United States Respond?
James Steinberg, University Professor of Social Science, International Affairs, and Law, Syracuse University
U.S. Policy Implications and Options
Robert Sutter, Professor of Practice of International Affairs, George Washington University
---
REGIONAL PERSPECTIVES ON GROWING CHINA-RUSSIA TIES
Chair
J. Stapleton Roy, Founding Director Emeritus and Distinguished Scholar, Kissinger Institute on China and the United States, Wilson Center
Speakers
Russia in the China-Russia Strategic Partnership
Vasily Kashin, Senior Research Fellow, Russian Academy of Sciences
Japan and China-Russia Relations
Yuki Tatsumi, Director, Japan Program, Stimson Center
China-Russia Cooperation and the International System
Yu Bin, Professor of Political Science, Wittenberg University
China and Russia in the East Asia Maritime Domain
James D. J. Brown, Associate Professor of Political Science, Temple University, Japan Campus
---
CLOSING REMARKS
Richard J. Ellings, President and Co-founder, NBR
Robert Sutter, Professor of Practice of International Affairs, George Washington University
---
Banner image: Chinese president Xi Jinping (r) welcomes Russian president Vladimir Putin (l) at the G20 summit in Hangzhou © plavevski / Shutterstock.com