Contact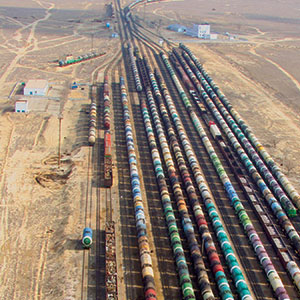 Report | Nov 2, 2017
2017 Energy Security Workshop
On June 7, 2017, NBR and the Woodrow Wilson International Center for Scholars co-hosted the thirteenth annual Energy Security Workshop, "Asia's Energy Security and China's 'Belt and Road' Initiative."
Under Xi Jinping, Beijing has launched its ambitious "Belt and Road" Initiative, which envisions an enormous expansion of China's investment, trade, and diplomatic engagement across the Eurasian continent, as well as through the Indo-Pacific sea lanes from China all the way to the Middle East and Europe. The "belt" will expand China's trade and investment overland to Central Asia and Europe through a Silk Road Economic Belt, while the "road" involves building a 21st Century Maritime Silk Road that will allow China to project economic, energy, and geopolitical influence throughout the South and East China Seas, the Indian Ocean, and the Middle East.
The Belt and Road is a far-reaching initiative, and its energy dimensions promise to substantially affect the future trade, investment, geopolitical, and environmental dynamics of the East Asian and Eurasian regions. Yet there has been relatively little analysis in the West, especially in the United States, of the implications of the initiative for energy security.
With these concerns in mind, the 2017 Energy Security Workshop examined:
Oil and gas projects under the Belt and Road and the impact on China's national oil companies, international oil companies, and commercial energy relations
How the Silk Road Economic Belt affects Beijing's Eurasian continental energy access strategies and influences China's energy security, investment strategy, and diplomatic relations with Central Asia, Russia, and South Asia
The role of energy and power projects in the China-Pakistan Economic Corridor
How the 21st Century Maritime Silk Road affects Beijing's Indo-Pacific energy import strategy and the implications for Asia's maritime and energy security.
Agenda
WELCOME AND INTRODUCTION
Clara Gillispie, The National Bureau of Asian Research
Michael Kugelman, Woodrow Wilson International Center for Scholars
---
SPECIAL PRESENTATION: Mapping China's "Belt and Road"
Introduction
Mikkal E. Herberg, The National Bureau of Asian Research
Remarks
Nadège Rolland, The National Bureau of Asian Research
---
PANEL ONE: Oil and Gas Projects under the Belt and Road Initiative and the Role of China's NOCs: Prospects for Investment and Engagement
Moderator
Mikkal E. Herberg, The National Bureau of Asian Research
Author
Erica Downs, CNA Corporation
Discussants
Edward C. Chow, Center for Strategic and International Studies

Tanvi Madan, Brookings Institution
---
PANEL TWO: Asia's Energy Security and China's "Silk Road Economic Belt"
Moderator
Mikkal E. Herberg, The National Bureau of Asian Research
Authors
Michael Kugelman, Woodrow Wilson International Center for Scholars
Kaho Yu, Harvard Kennedy School
Discussants
Clara Gillispie, The National Bureau of Asian Research

Jane Nakano, Center for Strategic and International Studies

Zhao Hongtu, China Institutes of Contemporary International Relations (CICIR)
---
KEYNOTE: Strengthening Maritime Security in the Indo-Pacific
Introduction
Andy Nguyen, The National Bureau of Asian Research
Remarks
Admiral Jonathan W. Greenert (ret.), 30th Chief of Naval Operations, U.S. Navy; Shali Chair in National Security Studies, The National Bureau of Asian Research
---
PANEL THREE: Asia's Energy Security and China's "Maritime Silk Road"
Moderator
Roy Kamphausen, The National Bureau of Asian Research
Author
Christopher Len, National University of Singapore
(as presented by Clara Gillispie)
Discussants
Mikkal E. Herberg, The National Bureau of Asian Research

Harry Krejsa, Center for a New American Security

Christopher D. Yung, Marine Corps University
---
KEYNOTE REMARKS: Energy, Trade, and U.S.-China Economic Relations
Introduction
Clara Gillispie, The National Bureau of Asian Research
Remarks
Congressman Charles W. Boustany Jr., MD, Former Representative, Louisiana's 3rd District; Counselor, The National Bureau of Asian Research
---
Photo Gallery
Event Co-Hosts