2013 Pacific Energy Summit
Forging Trans-Pacific Cooperation for a New Energy Era
On April 2–4, 2013, NBR and Asia Pacific Foundation of Canada co-hosted the Summit, which convened key stakeholders from around the world in Vancouver, Canada, to discuss market and policy solutions for "Forging Trans-Pacific Cooperation for a New Energy Era."
The annual Pacific Energy Summit provides a vehicle for ongoing collaboration and dialogue on the topics of energy security and climate change and seeks to forge lasting partnerships that address these challenges jointly.
This invitation-only event took place in an interactive forum where delegates explored what is needed to realize the full potential for more integrated energy trade and investment between Asia and North America.
Summit Papers
To inform plenary sessions and prompt thought-provoking discussion, the 2013 Summit organizers commissioned policy papers from top experts in the field.
Energy-Efficiency Policies in the Asia-Pacific: Can We Do Better?
Tilak K. Doshi, Energy Studies Institute, National University of Singapore
Nahim Bin Zahur, Energy Studies Institute, National University of Singapore
Implications of North American LNG Exports for Asia's Pricing Regime
Shahriar Fesharaki, FACTS Global Energy
Forging a New Trans-Pacific Energy Trade: Opportunities and Challenges
Mikkal E. Herberg, The National Bureau of Asian Research; University of California, San Diego
The U.S.-Canada Energy Relationship and the Growing Role for Asia
James Slutz, Global Energy Strategies LLC
Social License to Operate: How to Get It, and How to Keep It
Brian F. Yates, SNC Lavalin Environment
Celesa L. Horvath, Ventus Development Services Inc.
Featured Speakers
Dennis Blair, The National Bureau of Asian Research Board of Directors, United States
Charles W. Boustany, Jr., House of Representatives, United States
Ed Fast, Foreign Affairs and International Trade, Canada
Mikkal Herberg, The National Bureau of Asian Research; University of California, San Diego, United States
Robert D. Hormats, Department of State, United States
Muhammad Enamul Huq, Ministry of Power, Energy and Natural Resources, Bangladesh
Ken Koyama, Institute of Energy Economics, Japan, Japan
Kevin Lynch, BMO Financial Group, Canada
Tadashi Maeda, Japan Bank for International Cooperation; Special Advisor to the Cabinet, Japan
Oh Sung-Hwan, Ministry of Foreign Affairs and Trade, South Korea
Carlos Jericho Petilla, Department of Energy, Philippines
Wang Zhen, China University of Petroleum at Beijing, China
Yuen Pau Woo, Asia Pacific Foundation of Canada, Canada
Satya Yudha, Commission VII, House of Representatives, Indonesia
Anthony Yuen, Citi Research, United States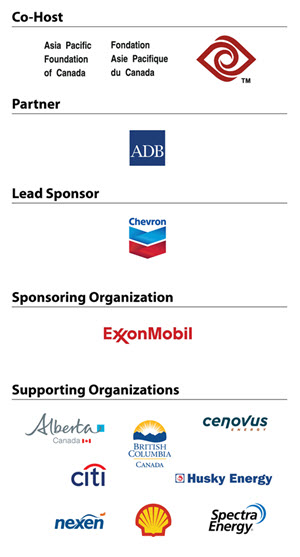 Handout
Finding the Right Price: LNG Markets and the Asian Premium
Shinichi Kihara, Ministry of Economy, Trade, and Industry, Japan
Media Coverage