Contact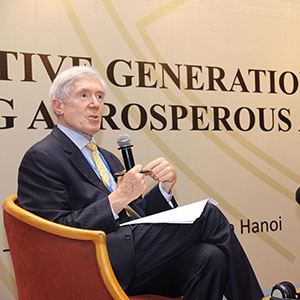 Report | Mar 20, 2012
2012 Pacific Energy Summit
The annual Pacific Energy Summit provides a vehicle for ongoing collaboration and dialogue on the topics of energy security and climate change and seeks to forge lasting partnerships that address these challenges jointly.
On March 20-22, 2012, the Pacific Energy Summit convened key stakeholders from around the world in Hanoi, Vietnam, to discuss market and policy solutions for "Innovative Generation: Powering a Prosperous Asia." This invitation-only event took place over three days in an interactive forum where delegates exchanged ideas on how to sustainably meet Asia's electricity needs and support Asia's economic growth.
The 2012 Summit came at a critical juncture. The Asia-Pacific is the most economically dynamic region in the world and sits at the forefront of global efforts to effectively and sustainably meet growing energy needs. Decisions made today will define how we will meet burgeoning energy demand to sustain growth and address the concurrent environmental impacts.
Summit Papers
To inform plenary sessions and prompt thought-provoking discussion, the 2012 Summit organizers commissioned policy papers from top experts in the field that were distributed to Summit participants in advance of the meeting. Access the 2012 Summit Papers.
Featured Speakers
Jose Rene D. Almendras, Department of Energy, Philippines
Dennis Blair, The National Bureau of Asian Research Board of Directors, United States
Emma Cochrane, ExxonMobil, United States
Charles Ebinger, Brookings Institution, United States
Robert D. Hormats, Department of State, United States
Tatsuo Masuda, Nagoya University, Japan
Melody Meyer, Chevron Corporation, United States
Nguyen Anh Tuan, Institute of Energy, Vietnam
Srinivasan Padmanaban, U.S. Agency for International Development, India
Hooman Peimani, Energy Studies Institute, National University of Singapore, Singapore
Viraphonh Viravong, Ministry of Energy and Mines, Laos
Sponsors and Collaborating Organizations
The 2012 Pacific Energy Summit was generously supported by Chevron, ExxonMobil, Asian Development Bank, Japan Bank for International Cooperation, and Duane Morris, LLC.
The Diplomatic Academy of Vietnam was a partner organization, and the Institute of Energy, Vietnam, and the Vietnam Chamber of Commerce and Industry were collaborating organizations.
PARTNER ORGANIZATION

LEAD SPONSOSRS

SPONSORING ORGANIZATIONS



COLLABORATING INSTITUTIONS


Participant Handouts
The Role of Natural Gas in 20 Years in South Korea (PDF)
Kwon Hong Ryu, School of Law, Wonkwang University; Seoul Bar Association
Recent Development of Restructuring of the Korean Power Sector (PDF)
Young Chang Kim, Ajou University, and Konstantin Petrov, KEMA Consulting
A Japanese Perspective on the International Energy Landscape: Future Asian Electricity Markets (PDF)
Ken Koyama, The Institute of Energy Economics, Japan