2021 Annual Report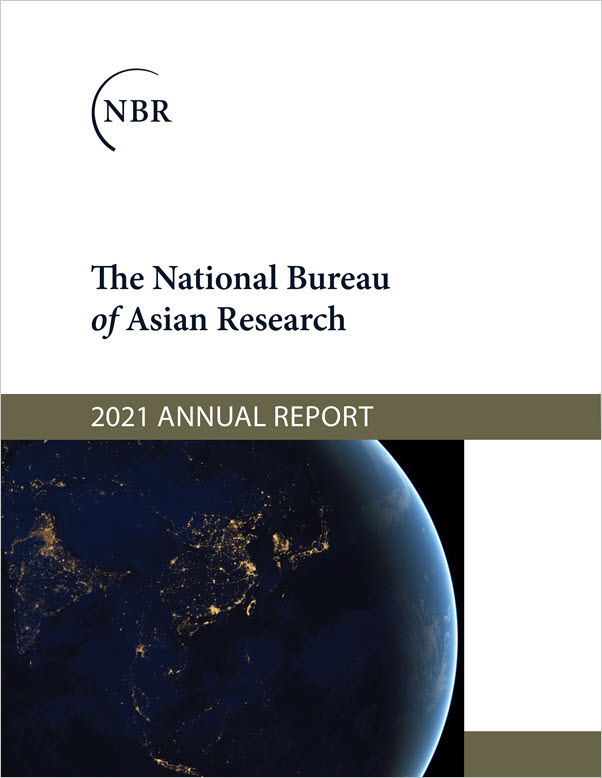 Download the 2021 Annual Report.
Letter from the President
Our work at this moment in time—to make sense of the concentrating power, risk, and opportunity in Asia for decision-makers—has never been more essential.
True to our mission, in 2021 we remained focused on delivering original research on the evolving strategic environment in Asia in anticipation of future challenges. With a select global network of experts leading our research agenda, we continue to deliver policy-relevant research that informs decision-making and public policy.
More than two hundred Asia specialists worldwide contributed their expertise to NBR research studies, publications, podcasts, and outreach to policymakers in 2021. At their core are a newly reconstituted Board of Advisors. Our inaugural nonresident fellows bring their expertise to our research teams.
NBR's innovative research makes a difference in areas that are of pressing concern for policymakers in Congress and the administration—the theft of intellectual property, China's vision for a new global order and its strategy for Africa, opportunities and concerns posed by the rise of digital trade, and the challenges of achieving both energy security and environmental sustainability, among many others. Our flagship program—Strategic Asia—released its 20th anniversary volume, which assesses the impact of U.S.-China competition, pushback against globalization, and the Covid-19 pandemic on the Indo-Pacific region. And our longstanding research on China's People's Liberation Army entered a new phase in exclusive partnership with the Indo-Pacific Command (INDOPACOM) and with the first of our PLA Executive Education courses.
Taking our research to decisionmakers to inform policy remains central to our mission. Our research teams regularly brief members and staff on Capitol Hill. Throughout 2021, even as the pandemic limited in-person engagement, we continued to reach out virtually to Congress, cultivating relationships with many members of the House and Senate on both sides of the aisle, providing both hearing testimony and informal policy support to staff. Our interactions with Biden administration officials were extensive in 2021, ranging from small, in-person briefings to virtual staff briefings for the National Security Council staff, State Department, Department of Defense, and intelligence community. Our team also took part in consultations on the new National Security Strategy, and crisis communications between the Department of Defense and Chinese military. Our interactions with INDOPACOM are particularly fulsome. Admiral John Aquilino and Lieutenant General Steve Sklenka were distinguished speakers at the 2021 PLA Conference in Seattle as we explored Chinese perspectives on deterrence under Xi Jinping.
Training the next generation of Asia specialists has always been our second mission, and in 2021 our programming blossomed. We welcomed the inaugural class of two Undergraduate Diversity Fellowship awardees, representing underrepresented communities in Asia policy work. Their fellowships were funded by NBR staff, demonstrating our commitment to making a difference. Also new in 2021 was the Ellings-Korduba Research Fellowship Program, whose two fellows spent a summer in residence at NBR's Seattle office where they joined the inaugural eight-week NBR Summer Seminar: The China Challenge. June also marked the first successful completion of the Gorton Leaders Program since the passing of Senator Slade Gorton. Members of a national advisory council selected five students to be part of the fourth class of the Chinese Language Fellowship Program, who started the year online then moved to study in Taiwan in the fall.
NBR donor societies continue robust programming that highlights our access to senior Asia policy leaders and decision-makers. President's Circle guests included Japan's new Ambassador to the United States Koji Tomita and Chairman's Council members had the privilege of hearing from 64th Secretary of State Madeleine Albright, Governor (and three-time ambassador) Jon M. Huntsman Jr., and Foreign Minister Joseph Wu of Taiwan, among other distinguished guests. We were heartened by the praise offered for our work by Secretary Albright:
"I have the highest respect for the National Bureau of Asian Research and the role that it plays in helping American decision-makers craft better policy towards Asia. It is a role that will become even more critical as Asia's influence grows and U.S. engagement in the region expands."
I am often reminded of what a privilege it is to engage with our supporters and expert network in common cause to further our mission—better-informed Asia policy and a well-trained next generation of Asia specialists. And we are grateful to all who make our vital work possible.

Roy Kamphausen
President, The National Bureau of Asian Research
To make a gift, visit nbr.org/give