We rely on the generous contributions of individuals, corporations, foundations, government departments and agencies, and other institutions to help support our work.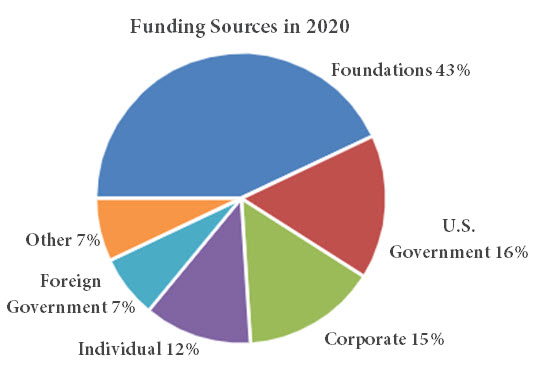 For three decades, this funding has allowed NBR to produce high-caliber, policy-relevant research on U.S. relations in the Asia-Pacific and gather top leaders from policy, industry, and academia for events throughout the world.
We are privileged to acknowledge the following for their support through both unrestricted gifts and gifts for specific purposes. Our supporters from 2016 through 2017 are listed below by category.
---
Private Sector Supporters
Acucela Inc.
Amazon
Amgen, Inc.
Boeing Company, Inc.
Cambria
Chevron Corporation
ConocoPhillips Company
Corning, Inc.
DRVision Technologies LLC
Ernst and Young, LLP
ExxonMobil Corporation
Huntington Ingalls Industries, Inc.
Innovative Sugarworks
Invesco, Inc.
K&L Gates LLP
KPMG, LLP
L-3 Communications Corporation
Microsoft Corporation
Mitsubishi Corporation
Nintendo of America
Qualcomm
Safeco Insurance
Starbucks
Unico
Van Ness Feldman LLP
Foundation Supporters
The Lynde and Harry Bradley Foundation
Carnegie Corporation of New York
The Japan Foundation Center for Global Partnership
Henry M. Jackson Foundation
The Korea Foundation
Markle Foundation
Sasakawa Peace Foundation U.S.A.
Smith Richardson Foundation
UniKorea Foundation
Government Supporters
Consulate General of Japan in Seattle
Consulate General of the Republic of Korea in Seattle
French Ministry of Defense
Japan-U.S. Friendship Commission
Japan Bank for International Cooperation
Japan External Trade Organization
Korea Institute for National Unification
Embassy of the Republic of Korea in the United States
Naval Postgraduate School
Taipei Economic and Cultural Representative Office
U.S. Army War College
Group and Nonprofit Institution Supporters
Australian National University
Hanyang University
Institute of Energy Economics, Japan
Institute of International Education
Korea Development Institute
Korea Energy Economics Institute
Pharmaceutical Research and Manufacturers Association
S. Rajaratnam School of International Studies
Sejong Institute
Individual Supporters
Creigh H. Agnew
Thomas W. Albrecht
Brian Alim
Nancy & Ken Anderson
Thomas & Mary Anderson
Minoru Arakawa
Sam Baker
Kenneth Barron
Alan Bender
William E. Berry, Jr.
Jane Boubel
Charles W. Brady
Catherine Brazil
Heidi Brock
Steve Buri
Suzanne Burke
Richard C. & Martha H. Bush
Edward Carstensen
Hans Carstensen
Michael Cero
Frances & William Chapman
Bruce Chapman
Terri Claffey
Bernard D. Cole
Deborah & William Colton
Nina Collier
Sean Connell
John F. Corbett
Michael & Dianne Crawford
Corey & Kellie Daniels
Rebecca Dannaker
George Davidson
Norman & Suzanne Dicks
Ann T. Donnelly
Jack Donohue
Robert J. Doran
Larry Ehl
Richard J. Ellings
Trent Erickson
Dan & Nancy Evans
Adam Faber
Bruno Fiorentini
Isaac Fones
Gwen Fraser
Eric J. Garcia
Kay Gabriel
Frederick R. Gaenslen
Steve & Kathleen Gano
Eric J. Garcia
Robert B. Gill
Candace & Darrell Glover
Slade Gorton
Michael & Karen Gorton
Nathaniel M. Gorton
Gerald Grinstein
Greg & Betty A. Gubler
Donald Guthrie
John Hamer
Richard Harris
Michael T. Hatada
Matthew Hayes
Alex Hays
Thomas B. Hayward
Roderick M. & Carla A. Hills
Curtis Hom
Walter C. Howe
Teresa Hunt
Susan Hutchison
William Hyslop
Mark Jones
Robert Kahn
Roy D. Kamphausen
Richard B. & Linda Katz
Shinichiro Kawazoe
Lee Keller
John Kelly
Michael Kern
Ariko Kimoto
Zurab S. & Elisabeth J. Kobiashvili
Norman Larsen
Richard Lawless
Chae-Jin Lee
David D. Lewis
Anthony Lowe
Tim Lowenberg
Steven & Jeanyne Marshall
Kevin & Shannon Mather
Jim & Gretchen McDevitt
Mike McKay
Rob McKenna
Vickie & Arthur McQuade
Nancy & Neil McReynolds
Melody & Kim Meyer
Philip Moeller
Ralph Munro
Christian & Alfreda J. Murck
Bryan Myrick
Cathryn Treadwell-Nelson
Melissa and Don Nielsen
Charles G. Nordhoff
Joseph Nortz
Sean O'Brien
Andrew Over
Christopher Page
Mariana Parks
Connie Partoyan
Pamela Passman
Kent Patton
Joe Pauletto
Tim Peckinpaugh
Dwight Herald & Julie Rate Perkins
Catherine Phillips
William E. Pierson
Sally Poliak
Catherine Porciuncula
JoAnn Poysky
William Rademaker
William Rademaker, Jr.
J. Thomas Ranken
Scott Redman
Clarine N. Riddle
John V. & Sarah Rindlaub
Thomas Robertson
Jeffrey Roe
Dino Rossi
William & Jill Ruckelshaus
Benjamin Settle
Joan Shalikashvili
Frank Shrontz
Sheldon W. & Charlann S. Simon
Langdon S. Simons
Don & Moya Skillman
Gordon & Deborah Smith
Gary Smith
Dorothy J. Solinger
Gordon Sondker
Susan & Eric Stahlfeld
John W. Stanton
Frank Stern
J. Vander Stoep
Chris Strow
Robert G. & Valerie O. C. Sutter
David K. Y. & Daphne C. P. W. Tang
Travis N. & Amy Tanner
Mikal Thompsen
Brewer & Joanne Thompson
Ian Thompson
Alexander Tokman
Gregory & Joann Tripp
Ezra Vogel
Robert C. Wallace
Walter Walker
Robert Wallace
Edward Wallgren
Joseph N. Walter
Cynthia Watson
Jocelyn Webster
David Westgor
Nancee Wildermuth Fetters
Tony J. & Cindi Williams
Larry M. & Christine J. Wortzel
Katherine & Nathaniel Yocom
Wei Yuxi