We rely on the generous contributions of individuals, corporations, foundations, government departments and agencies, and other institutions to help support our work.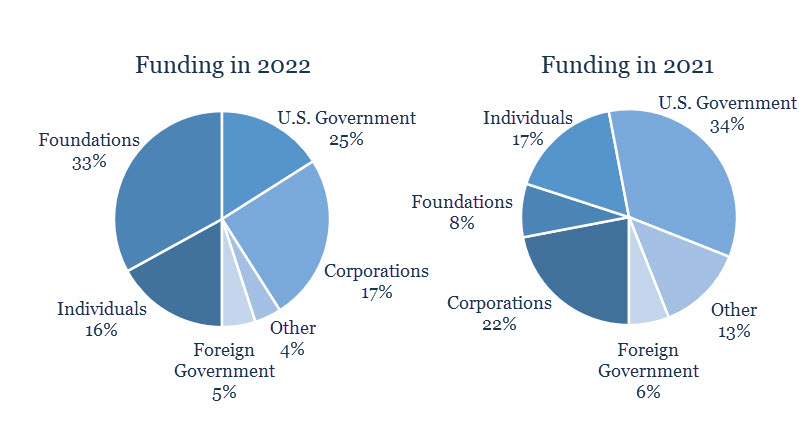 For three decades, this balanced funding has allowed NBR to produce high-caliber, policy-relevant research on U.S. relations in the Asia-Pacific and gather top leaders from policy, industry, and academia for events throughout the world.
We are pleased to acknowledge the following supporters for their support through both unrestricted gifts and funding for specific purposes in 2020 to 2022.
---
Private Sector Supporters
AbbVie Inc.
Albright Stonebridge Group
Alion Science and Technology Corporation
Amgen Inc.
Boeing Company
Chevron Corporation
ConocoPhillips
Company
Doublethink Lab
F5, Inc.
Huntington Ingalls Industries
K&L Gates LLP
Kubota Vision Inc.
Microsoft Corporation
Mitsubishi Heavy Industries America, Inc.
PR Consulting Dentsu, Inc.
Starbucks
Unico
United Services Automobile Association
Foundation Supporters
Carnegie Corporation of New York
Evans Family Foundation
Hinrich Foundation
Korea Foundation
Henry Luce Foundation
U.S.-Japan Foundation
Government Supporters
Australian Department of Defence
Consulate General of Japan in Seattle
Consulate General of the Republic of Korea in Seattle
Defense Threat Reduction Agency
Department of Defense (ONA) Department of State (ENR)
Department of State (GEC) Department of State (ISN/CTR
Japan Bank for International Cooperation
Japan External Trade Organization
National Defense University
Small Business Administration
Taipei Economic and Cultural Representative Office
U.S. Embassy-Chennai
U.S. Air Force Academy
U.S. Army War College
U.S. Indo-Pacific Command
Group Supporters and Nonprofit Institution Partners
Asia Pacific Foundation of Canada
Australian National University
CRDF Global
Economic Research Institute for ASEAN
Energy Futures Initiative
Institute for War and Peace Reporting
Korea Energy Economics Institute
Pharmaceutical Research and Manufacturers Association
S. Rajaratnam School of International Studies, Nanyang Technological University
Individual Supporters
Bruce & Elaine Acker
Jennifer Adams
Creigh Agnew
Carol Ahrenholz
Thomas Albrecht
Steven Anderson
Ben Andrew
Mary Araki
Amy Barnes
Ellen Beauchamp
Rachel Bernstein
Melanie Berry
William E. Berry, Jr.
Rod Bindon
Dennis & Diane Blair
Charles & Bridget Boustany
Roger Bowlin
Robert Brunton
Michael Burgoyne
Richard & Martha Bush
Maria Livanos Cattaui
Michael Cognato
Deborah & William Colton
Timothy Cook
Deborah Cooper
Linda Distlerath
Daria Dolgova
Nelson Dong
Robert Doran
Michael Dyer
Nicholas Eberstadt & Mary Tedeschi
Richard J. Ellings
Thomas Fargo
Mark Frazier
Michael & Lynn Garvey
Robert Gill
Kurt Glaubitz
Slade Gorton
John Graham
Stephen Hanson
Michael Hatada
Matthew Hayes
Carla A. Hills
Curtis Hom
Mark Jones
Roy & Arminda Kamphausen
Mahin Karim
Karolos Karnikis
Richard & Linda Katz
Maekara Keopanapay
Jessica Keough
Sean Kim
Ariko Kimoto
Zurab & Elisabeth Kobiashvili
Ryo Kubota
Benjamin Lee
Chae-Jin Lee
Leah Li
Jonathon Marek
Art Maria
Jennie Mattingly
William McCahill
Mike McKay
Melody Kim Meyer
Christian & Alfreda J. Murck
Malachy Murphy
Joel Murray
Joseph Narus
Long & Kimmy Nguyen
Sean O'Brien
Julia Oh
Andrew Oros
Mariana Parks
Sloane Payne
Tim Peckinpaugh
Dwight & Julie Perkins
Phoutrides Family
Karin Pierce
Dylan Plung
Matthews Pothens
Kenneth & Anne Pyle
William Rademake
Clarine Riddle
John & Sarah Rindlaub
Jonathan Roberts
Thomas Robertson
Jeffrey Roe
Morgan Roe
Nadège Rolland
Charles Salmon
William Schenck
Julie Sensenbrenner
Joan Shalikashvili
Peter, Olivia, & Julie Shapiro
Jerome Siangco
Alex Smith
Sandip Soli
Caroline Stoebuck
Doug Strub
Grant Sung
Robert & Valerie Sutter
Alison Szalwinski
Travis & Amy Tanner
Ashley Tellis
Olivia Truesdale
Roseanne Trujillo
J. Vander Stoep
Mitch Waldman
Mengjia Wan
Sandra Ward
Cynthia Watson
Jim & Roberta Weymouth
Michael Wills
Larry & Christine Wortzel
Dan & Guowei Wright
Friedrich Wun Wu
Leslie Yamada
Elizabeth Young