Honoring the Legacy of Senator Henry M. "Scoop" Jackson
Forty years ago, on September 1, 1983, Senator Henry M. "Scoop" Jackson (D-WA) passed away shortly after returning from a trip to China. He was an uncommon leader, impactful on a wide range of domestic policy issues, including protection of the environment and energy policy. He also was a "globally known authority and powerful participant in developing America's foreign and national security policies," as his longtime advisor, Dorothy Fosdick, observes in her book Staying the Course: Henry M. Jackson and National Security.
A central figure in the Cold War, Senator Jackson was convinced that a deep and nuanced understanding of history was necessary to form effective policy in that struggle. This commitment is central to our mission at NBR. Established in 1989 to realize Scoop's vision for an institution that "bridges the gap" between academic research and policy, NBR remains committed to helping policymakers better understand Asia.
Over the coming months, we will feature essays remembering his contributions and imagining how he might have addressed the complexities of international relations in our contemporary world. This series begins with the reflections of Ken Pyle, founding president of NBR and Henry M. Jackson Professor Emeritus at the University of Washington. Senator Jackson often invited Professor Pyle to travel with him to Asia, and Ken was on Scoop's last trip to China.
Roy Kamphausen
President, The National Bureau of Asian Research
---
Representative Rick Larsen (D–WA) offers this tribute to Senator Jackson:
Senator Jackson was a patriot and a champion of democracy and human rights around the world. He was a steady leader who was dedicated to solving problems facing his constituents. In Congress, he was a champion for strong national defense and environmental protection. Senator Jackson's legacy serves as a roadmap for effective Congressional leadership and his example guides my commitment to Washington state's Second Congressional District.
---
Featured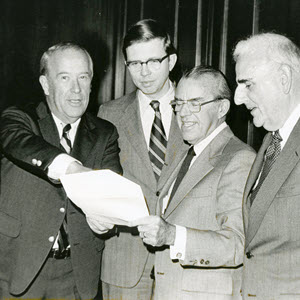 Essay | Sep 30, 2023
Essay | Sep 9, 2023