William J. Lynn, III
IP Commission Member
The National Bureau of Asian Research


Chief Executive Officer,
Leonardo DRS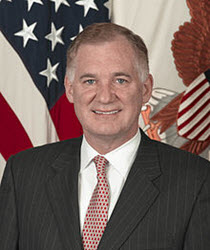 William J. Lynn III is the Chief Executive Officer of Leonardo DRS. Prior to joining DRS in January 2012, he served as the 30th U.S. deputy secretary of defense (2009-11).
As deputy secretary of defense, Mr. Lynn served under Secretaries Robert Gates and Leon Panetta, managing three million personnel and overseeing an annual budget of $700 billion. He also personally led the department's efforts in cybersecurity, space strategy, and energy policy.
From 2002 to 2009, Mr. Lynn was senior vice president of government operations and strategy at the Raytheon Company. Previously, he served as undersecretary of defense (comptroller) from 1997 to 2001 and as director of program analysis and evaluation in the Office of the Secretary of Defense from 1993 to 1997. Mr. Lynn also worked on the staff of Senator Ted Kennedy as his counsel for the Senate Armed Services Committee.
He has been recognized for numerous professional and service contributions, including four Department of Defense medals for distinguished public service, the Joint Distinguished Civilian Service Award from the chairman of the Joint Chiefs of Staff, and awards from the U.S. Army, Navy, and Air Force.
Mr. Lynn holds a law degree from Cornell Law School and a master's degree in public affairs from the Woodrow Wilson School of Public and International Affairs at Princeton University. He is also a graduate of Dartmouth College.