Travis Sullivan
Boeing Company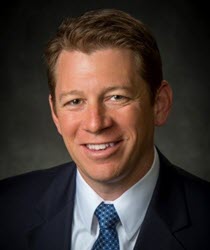 Travis Sullivan is a member of the Board of Advisors at the National Bureau of Asian Research.
Sullivan is Boeing's Vice President and General Manager of Boeing Distribution Services (formerly KLX Aerospace Solutions and Aviall, Inc), the world's leading commercial aerospace and defense integrated parts and distribution services distribution provider.
Sullivan was named as VP/GM of Boeing Distribution Services, Inc. (formerly KLX Aerospace) in March 2019. In February 2022, his role expanded to include Boeing Distribution, Inc. (formerly Aviall) as part of a combined business. In this role, Sullivan is responsible for overseeing all aspects of the two wholly owned subsidiaries of the Boeing Company, including growth, product line development and end-to-end P&L management and execution.
Prior to leading Boeing Distribution Services, Sullivan led the Boeing strategy organization – shaping the company's future by developing integrated strategies to enhance productivity, drive innovation and facilitate profitable growth. In his strategy role, Sullivan oversaw the entire strategy function for The Boeing Company, including skill development, talent management and overall functional performance.
Previously, Sullivan served as vice president of Strategy & Business Capture at Boeing Defense, Space & Security (BDS). He led a team that drove decisions on business strategy, portfolio investment, competitive assessments, mergers and acquisitions, international strategic partnerships, and business capture activities for defense and space markets.
Prior to that role, Sullivan was Vice President of International Strategy and Business Development at Boeing Commercial Airplanes, where he oversaw the global team responsible for developing and coordinating an integrated strategy to advance business objectives in key markets around the world. Sullivan's team also negotiated
and managed industrial partnerships in select international markets to expand commercial opportunities for Boeing. Other assignments at Boeing include Director of Geopolitical and Policy Analysis and Director of International Trade Policy.
Sullivan has also served in numerous public policy roles. He was Director of Policy and Strategic Planning at the U.S. Department of Commerce and Senior Policy Advisor to U.S. Senator Maria Cantwell (D-WA) for foreign affairs, national security and trade and an International Trade Specialist at the U.S. Department of Commerce. Sullivan also worked at the White House and the Overseas Private Investment Corporation.
Sullivan earned Bachelor's degrees in International Studies and Political Science from the University of Washington; a Master's degree in International Affairs from the Elliott School of International Studies at George Washington University; and a Ph.D. in International Relations Theory from The Johns Hopkins University. He is also a graduate of the Executive General Management Program at Harvard Business School.
Sullivan is a U.S.-Japan Leadership Program fellow; a British American Project fellow; and a French-American Foundation's Young Leader program alumnus. He is an Advisory Board member for the Henry M. Jackson School of International Studies at the University of Washington; an Advisory Board member for the National Bureau of Asian Research (NBR); and serves as a Board member for Chicago-based Youth Guidance. In 2012, he received a University of Washington "Timeless Award," which recognized distinguished alumni to commemorate the university's 150-year anniversary.