Michael K. Young
IP Commission Member
The National Bureau of Asian Research


President emeritus and professor at the Bush School of Government and Public Administration
Texas A&M University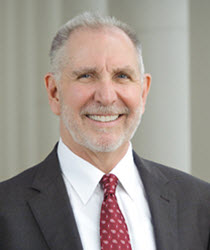 Michael K. Young is president emeritus of Texas A&M University and professor at the Bush School of Government and Public Administration at Texas A&M University. Also a tenured Professor of Law, he has a distinguished record as an academic leader with broad experience in public service and diplomacy.
He previously served as president of the University of Washington, where he led the nation's top public university (second among all universities) in attracting federal research funding. Prior to his appointment at the University of Washington, he served as president and distinguished professor of law at the University of Utah. Under President Young's leadership, Utah raised its stature nationally and internationally.
Before assuming the presidency at Utah, he was dean and Lobingier Professor of Comparative Law and Jurisprudence at the George Washington University Law School. He was also a professor at Columbia University for more than twenty years, and prior to joining the Columbia University faculty, he served as a law clerk to justice William H. Rehnquist of the U.S. Supreme Court.
President Young has held numerous government positions, including deputy undersecretary for economic and agricultural affairs and ambassador for trade and environmental affairs in the Department of State during the presidency of George H.W. Bush. He also served as a member of the U.S. Commission on International Religious Freedom from 1998 to 2005 and chaired the commission on two occasions.
He has published extensively on a wide range of topics, including the Japanese legal system, dispute resolution, mergers and acquisitions, labor relations, the legal profession, comparative law, industrial policy, international trade law, the North American Free Trade Agreement, the General Agreement on Tariffs and Trade, international environmental law, and international human rights and freedom of religion. He is a member of the Council on Foreign Relations and a Fellow of the American Bar Foundation.
President Young received a BA from Brigham Young University and a JD from Harvard Law School, where he served as a note editor of the Harvard Law Review.