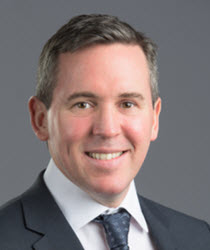 Mark Jones is a managing director and the head of Wells Fargo Securities Asia Pacific. He is responsible for overseeing all investment banking and capital markets activities, including advisory services and sales and trading, for the Asia Pacific (APAC) region. Mark also serves on the Boards of Wells Fargo Securities Japan and Wells Fargo Securities Asia Ltd.
Mark joined Wells Fargo in July 2013. Prior to joining Wells Fargo, Mark served at UBS as the head of sales for its Fixed Income, Commodities and Currencies group (FICC) in the Asia Pacific region. His client coverage has included hedge funds, asset managers, banks, sovereign wealth funds, and national pension schemes throughout the APAC region. Before that, Mark held a number of executive positions with UBS, including head of FICC Sales in Europe, managing director and head of European Structured Product Sales, and head of Solution Sales for the United Kingdom. Prior to UBS, Mark served at Barclays Capital, where he covered U.K. financial Institutions on asset-backed and credit products.
Mark holds a bachelor of science degree in Industrial Economics from the University of Warwick in the United Kingdom, and graduated from the Global Markets graduate training program at Deutsche Bank in 1998. He also holds a Fin Tech diploma from MIT and is a member of UK Mensa.
Mark, a keen tennis player, lives in Hong Kong but still keeps his membership at the Queens club in London where he plays whenever he can. He's also heavily involved in Room to Read, a literacy charity for poor communities in APAC.