Long Nguyen
Chairman, President, and CEO
Pragmatics, Inc.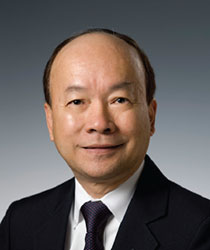 Long V. Nguyen is Founder of Pragmatics, Inc., an information technology firm based in Reston, VA. He provides overall strategic guidance and direction to senior management in operations, business development, and finance. Pragmatics was established in 1985 and delivers innovative solutions to clients in numerous defense and civilian agencies, including the Departments of the Army, Navy, Air Force, Homeland Security, State, Commerce, Treasury, Transportation, and Labor. Over the years, Pragmatics has performed on more than 1,000 projects for more than 100 different customers. Pragmatics has been externally appraised at CMMI Level 5 (highest level), one of very few companies (worldwide) at that level. Pragmatics is also registered for ISO 9001, 20,000, and 27,000. Prior to Pragmatics, Dr. Nguyen had a distinguished academic career in which he taught computer science at Georgetown University and Indiana University-Purdue University.
A longtime philanthropist, Dr. Nguyen has established relief funds for numerous disasters, including 9/11 victims, an earthquake in Nepal, a typhoon in the Philippines, tornadoes and storms in Oklahoma, an earthquake and tsunami in Japan, hurricanes Florence, Michael, and Sandy, an earthquake in Haiti, and hurricanes Katrina and Harvey. Supporting our nation's wounded veterans and their families is also important to him, and he has made numerous donations over many years to benefit and support them.
He has created endowments at both George Mason University and Iowa State University in honor of his past academic advisors. In 2007, he established the Lanh and Oanh Nguyen (his parents) Endowed Chair in Software Engineering at Iowa State University. In 2009, he and his wife donated $5 million to the School of Engineering/IT at George Mason University which names the new Engineering Building after them.
His awards include:
– 2016 Mason Medal from George Mason University
– 2016 Distinguished Alumni Award from Iowa State University
– 2010 Ernst & Young Entrepreneur of the Year
– 2010 Executive of the Year from the Greater Washington Government Contractor
– 2008 Ellis Island Medal of Honor for showing outstanding qualities in his personal and professional life, yet maintaining the richness of his heritage
– 2008 Washington Business Journal Minority Business Leader Award
– 2007 Corporate Leader from The Center for Multicultural Human Services
– 2006 Ernst & Young Entrepreneur of the Year Finalist
– 2006 Leadership Award from the International Leadership Foundation
– 2005 Federal 100 Awardee
– 2005 Executive of the Year Finalist from the Greater Washington Government Contractor Awards
– 2004 "Entrepreneur of the Year" award from the Diversity Advisory Board of George Mason University
– 2004 Citation of Merit from Iowa State University.
Dr. Nguyen earned his undergraduate degree in physics at North Carolina State University, his master's degree, also in physics, at University of Virginia, and his doctorate in computer science at Iowa State University.