Joseph E. Tofalo
Vice President, Engagement and Customer Affairs
Huntington Ingalls Industries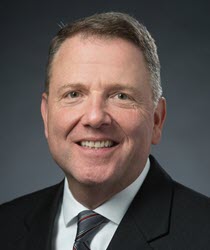 Joe Tofalo is Vice President, Engagement and Customer Affairs for Huntington Ingalls Industries (HII). Joining the company in January 2019, he helps inform national security policy and future naval force capabilities through engagement with think tanks, professional organizations, federal entities, academia and other third-party advocates. In addition, he provides customer affairs support across the HII portfolio, with emphasis on Undersea Warfare.
Tofalo graduated from the U.S. Naval Academy in 1983 and served 35 years in the Navy, retiring as a Vice Admiral. A career submariner, he has commanded at numerous levels, including submarine, squadron, group and force. His culminating submarine Flag Officer assignments were as Director, Undersea Warfare, responsible for submarine force warfighting requirements and the budgets to achieve them, and as Commander, Submarine Forces, responsible for the submarine force's vision, policies and operations.
Huntington Ingalls Industries is America's largest military shipbuilding company and a provider of professional services to partners in government and industry. For more than a century, HII's Newport News and Ingalls shipbuilding divisions in Virginia and Mississippi have built more ships in more ship classes than any other U.S. naval shipbuilder. HII's Technical Solutions division provides mission-critical national security solutions to government and commercial customers worldwide. Headquartered in Newport News, Virginia, HII employs over 44,000 people operating both domestically and internationally. For more information, visit: www.huntingtoningalls.com.