Jon M. Huntsman Jr.
IP Commission Member (co-chair emeritus)
The National Bureau of Asian Research


Vice Chair, Policy
Ford Motor Company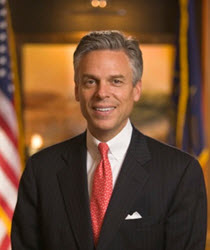 Jon M. Huntsman, Jr., is Vice Chair, Policy, Ford Motor Company. He is a former U.S. ambassador to Russia, China, and Sinagpore, the former governor of Utah (2005-9), and co-chair emeritus of the Commission on the Theft of American Intellectual Property.
Governor Huntsman was appointed U.S. ambassador to China by President Barack Obama and confirmed by the Senate on August 7, 2009. As ambassador, he worked closely with U.S. business owners to facilitate commerce in the growing Asian market and advocated for the release of U.S. citizens wrongfully imprisoned.
As governor of Utah, he cut waste and made government more efficient. As a result, the state held its AAA bond rating and earned national accolades for debt management. Utah also ranked number one in the United States in job creation and was named the best-managed state by the Pew Research Center.
Prior to serving as governor, he was named U.S. ambassador to Singapore, becoming the youngest head of a U.S. diplomatic mission in a century. Governor Huntsman also served as U.S. trade ambassador under President George W. Bush, during which time he helped negotiate dozens of free trade agreements with Asian and African nations.
Governor Huntsman holds a BA in international politics from the University of Pennsylvania.