Rear Adm. (ret) Huan Nguyen
Senior Advisor to Naval Sea Systems Command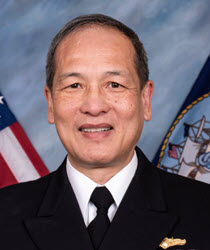 Huan Nguyen is currently the Senior Advisor to Naval Sea Systems Command, providing support on cybersecurity and digital transformation.
Nguyen graduated from Oklahoma State University in 1981 and served 30 years in the Navy, retiring as a rear admiral. A career Engineering Duty Officer, he has commanded at various levels including Flag Officer assignment as Deputy Commander, Cyber Engineering, responsible for the establishment of SEA 03 Directorate to support cybersecurity and digital transformation requirements for new ships, submarines, and weapon systems for the Navy.
In addition to his bachelor of science in electrical engineering from Oklahoma State, Nguyen also earned a master of science in electrical engineering from Southern Methodist University, a master in engineering from Purdue University and a master of science in information technology with highest distinction from Carnegie Mellon University. He was awarded the Melvin R. Lohmann Medal and inducted into the Hall of Fame at Oklahoma State's College of Engineering, Architecture and Technology in 2020 for contribution to the engineering profession.
Nguyen is the first Vietnamese American to be promoted to the rank of rear admiral. He is serving on the board of advisors for several start-up technology companies and spending his time serving as mentor for Asian-Americans. He has created endowments at Oklahoma State University in honor of his academic past and to support education in STEM.