Heino Klinck
U.S. Army/Department of Defense (ret.)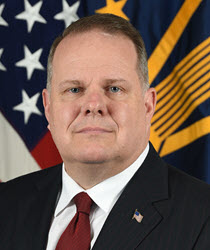 Heino Klinck is a member of the Board of Advisors at the National Bureau of Asian Research.
He is the Founder and Principal of Klinck Global LLC, a consulting firm focused on foreign market research, strategic positioning and relationship building, and identifying strategic growth opportunities overseas.
Most recently, Mr. Klinck was the Deputy Assistant Secretary of Defense for East Asia. In that role, he devised and implemented U.S. defense policy in a portfolio of over twenty countries and territories, advancing national security interests through defense strategy development, bilateral alliance management, security cooperation, contingency planning, and program oversight. He advised the Secretary of Defense, represented the Department of Defense to the National Security Council, and led sensitive negotiations with foreign partners.
While in the private sector with Northrop Grumman, Mr. Klinck was responsible for international strategy and business development for a portfolio of defense technologies. He led the overall strategy and client development for major opportunities, including the first-ever award of a major new C4I capability to a partner country.
In the U.S. Army, Mr. Klinck rose to the rank of Colonel and served in a variety of strategic positions, including two tours as a Military Attaché in China. He was a Foreign Area Officer with regional specializations in China and Europe. His military career culminated as the Director of Army International Affairs in the Pentagon, where he was the senior advisor and strategist on geopolitical, foreign affairs, and international security cooperation issues to the Army's top leaders. Mr. Klinck traveled globally with the Chief of Staff of the Army, advising him on key matters of national security. As the senior China Foreign Area Officer in the Pentagon, he routinely participated in strategic deliberations, simulations, and scenarios concerning the rise of China. His early Army assignments included leadership roles in armor, armored cavalry, and military intelligence units.
Mr. Klinck holds undergraduate and graduate degrees in international relations from Boston University, an MBA in international management from the University of London, and MS degrees from the University of Rome and the University of Milan. He was also awarded a fellowship by Stanford University's Asia-Pacific Research Center.
Publications