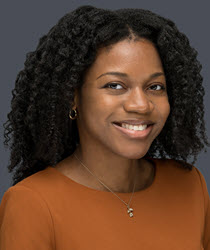 Darlene Onuorah is a Project Associate with Political and Security Affairs at NBR.
She supports various projects such as the Strategic Asia Program, the U.S.-ROK Next Generation Leaders Program, and grant proposals.
Prior to joining NBR, Ms. Onuorah was a Japan Security Policy intern for the Stimson Center in Washington D.C., where she researched and analyzed Japanese security issues and provided publications and events support for the Japan Program. Ms. Onuorah also worked for the Embassy of Japan in the Japan Exchange and Teaching (JET) Program office, helping to review and process thousands of JET applications. She has also held legislative and policy internships back in her home state of Texas.
Ms. Onuorah holds a master's degree in international affairs with a concentration in U.S. foreign policy from the George Washington University Elliott School of International Affairs and a bachelor's degree in Global Studies from St. Edward's University in Austin, TX. Ms. Onuorah speaks Japanese, and her research interests include U.S.-Japan relations, Japanese defense policy, and East Asian political and security affairs.