Darcie Draudt
Nonresident Fellow
The National Bureau of Asia Research (NBR)


@DarcieDraudt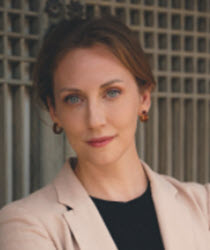 Darcie Draudt is a postdoctoral Fellow for the George Washington University Institute for Korean Studies at the Elliott School of International Affairs, nonresident fellow at the Korea Economic Institute, and nonresident fellow at the National Bureau of Asian Research. A political scientist and foreign policy analyst, Dr. Draudt publishes broadly on South and North Korean domestic politics, social issues, and foreign policy, inter-Korean relations, and US-Korea policy.
In 2021, Dr. Draudt was named one of the Next Generation Korea Peninsula Specialists at the National Committee on American Foreign Policy. She previously was a visiting scholar at the Yonsei University Department of Political Science and a Korea Foundation dissertation fieldwork fellow. She was also a research associate for Korea Studies and the Program on US-Korea Policy at the Council on Foreign Relations, a nonresident James A. Kelly Korean Studies fellow at Pacific Forum, and a field researcher for the International Organization for Migration Research and Training Center in South Korea. She holds a PhD in Political Science from the Johns Hopkins University, an MA in Korean Studies from the Yonsei University Graduate School of International Studies, and an AB with Honors in Anthropology from Davidson College. Dr. Draudt lived in Seoul from 2008 through 2013.
Draudt's research has been published in the Washington Quarterly, Citizenship Studies, the Georgetown Journal of International Affairs, and the Korean Journal of Unification Studies. Her analysis has been featured in major news outlets including the New York Times, the Washington Post, the Financial Times, Voice of America, CBNC, Deutsche Welle, and Bloomberg News. A full list of her academic and policy publications can be found here. You can follow here on Twitter @darciedraudt.