C. Michael Petters
President and Chief Executive Officer
Huntington Ingalls Industries (HII)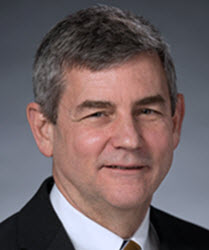 C. Michael Petters is president and chief executive officer of Huntington Ingalls Industries (HII), America's largest military shipbuilder.
Petters assumed this role on March 31, 2011, when Northrop Grumman Shipbuilding began operating as the newly formed and publicly owned Huntington Ingalls Industries in a spin-off from Northrop Grumman Corp. He is also a member of the HII board of directors.
Petters is responsible for leading the design, construction and overhaul of conventionally powered surface combatants, amphibious and auxiliary ships, and nuclear-powered submarines and aircraft carriers, as well as business opportunities in adjacent markets. Prior to this appointment and since 2008, Petters served as president of Northrop Grumman Shipbuilding. Previous to this, he served as president of Northrop Grumman's Newport News sector.
Petters joined Newport News Shipbuilding in 1987 in the Los Angeles-class submarine construction division. He held a number of increasingly responsible positions throughout the organization, including production supervisor for submarines, marketing manager for submarines and carriers, vice president of aircraft carrier programs, vice president of contracts and pricing, and vice president of human resources.
A native of Florida, Petters earned a bachelor's degree in physics from the U.S. Naval Academy in 1982, served aboard the nuclear-powered submarine USS George Bancroft and spent five years in the U.S. Naval Reserve. In 1993, he earned a master's degree in business administration from the College of William and Mary.
Petters serves on the Commonwealth of Virginia's Advisory Council on Revenue Estimates, the board of directors for the U.S. Naval Academy Foundation, the board of trustees of the Naval Aviation Museum Foundation and is the vice chairman of the Virginia Business Council. He also serves on the distinguished advisory board for the Dolphin Scholarship Foundation and the advisory council for the Naval Historical Foundation.