In Memory of Brigitte Gort-Allen


Brigitte M. Allen spent over fourteen years working at NBR. As Senior Vice President for Institutional Development, she was instrumental to NBR's growth and success. She remained an integral part of the institution until her death of lung cancer on Tuesday, April 7, 2009. She was 49 years old.
She is survived by her beloved husband, Steven Allen; their son, Benjamin; Steve's son, Daniel; her mother Elisabeth; and her brother Cees and his family.
In 1994, after she, husband Steve, and son Ben had moved to McChord Air Force Base in Washington State, Brigitte began her career at NBR. Brigitte built relationships with U.S. corporations and foundations and coordinated fundraising activities for NBR's endowments, research programs, and services. She served as secretary to the board of directors and played a central role in board relations and development. Without her dedication, imagination, and persistence, some of NBR's most enduring legacies—the Pyle Center for Northeast Asian Studies, the Shalikashvili Chair in National Security Studies, and of course our new home, George F. Russell Jr. Hall—would never have been achieved.
Above and beyond all these accomplishments, Brigitte cared deeply about the people, values and culture of NBR, on which she had profound influence. Brigitte left a special, handwritten note of thanks to NBR Board of Directors Chairman George Russell, who has inspired NBR staff to reach higher. Brigitte is now herself an inspiration to us, and we hold her in our thoughts and prayers as we begin the next stage of our journey.
While Brigitte loved flowers, her preference was that all memorial gifts be sent to NBR where flowers will forever bloom in a garden on the rooftop of NBR's new home, rightly named the Brigitte M. Gort-Allen Garden.
---
Memorial Service (19 April 2009)
Eulogy (excerpt) delivered by Dr. Richard J. Ellings, NBR President
Remarks delivered by:
Congressman Norman D. Dicks
Professor Kenneth B. Pyle
George F. Russell, Jr.
The Purple Tulip
A poem written for Brigitte by Karolos Karnikis, her NBR colleague of over 13 years
---
Brigitte M. Gort-Allen Garden
The garden was designed by world-renowned landscape architect Ilze Jones, a founding Principal of Jones & Jones Architects, Landscape Architects, and Planners of Seattle. See photos of Brigitte's Garden below.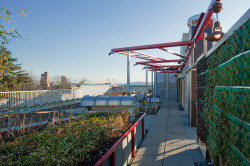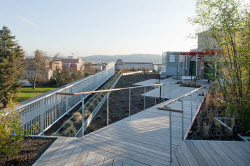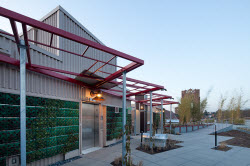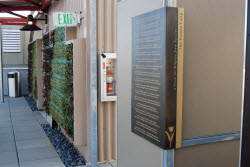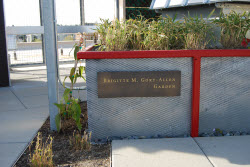 In Memory of Onno Gort
Onno Gort (1962–2010), brother of Brigitte Gort-Allen, was a founding member of NBR's technical advisory council and later served on NBR's advisory board.  Onno became involved with NBR through Brigitte, and over the years he provided hundreds of hours of technical and strategic counsel to NBR's IT and executive teams.
In recognition of Onno's fourteen years of exceptional and steadfast service, NBR presented him with the 2010 Presidents' Award for Above and Beyond Contributions. Each year, NBR's past and current presidents confer this award upon an exceptionally deserving individual to recognize his or her outstanding contributions to the organization.