Bates Gill
Macquarie University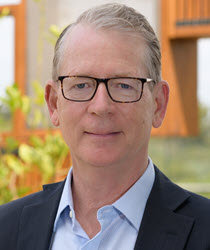 Dr. Bates Gill is a member of the Board of Advisors at the National Bureau of Asian Research and Professor of Asia-Pacific Security Studies and Chair of the Department of Security Studies and Criminology at Macquarie University in Sydney, Australia.
He has a 30-year global career as a scholar, institution-builder, policy advisor, consultant, and board director, with a particular focus on Asian and Chinese affairs. Previously he was the Chief Executive Officer of the United States Studies Centre at the University of Sydney (2012-2015) and Director and chief executive of the Stockholm International Peace Research Institute (SIPRI)(2007-2012).
Before joining SIPRI, Dr. Gill held the Freeman Chair in China Studies at the Center for Strategic and International Studies in Washington, D.C (2002-2007) and served as a Senior Fellow in Foreign Policy Studies and inaugural Director of the Center for Northeast Asian Policy Studies at the Brookings Institution (1998-2002).
Among his international honors, Dr. Gill holds the Royal Order of the Commander of the Polar Star, the highest award bestowed upon foreigners by the Swedish monarch, for his contributions to Swedish interests. In 2015, he was named a top-ten American China expert by the Chinese Foreign Affairs University. In recognition of his accomplishments, he was inducted into the Johns Hopkins University Society of Scholars in 2007.
He is the author, co-author, or co-editor of nine books, including China Matters: Getting it Right for Australia (Black Inc., 2017), Governing the Bomb: Civilian Control and Democratic Accountability of Nuclear Weapons (Oxford University Press, 2010), Asia's New Multilateralism (Columbia University Press, 2009), Rising Star: China's New Security Diplomacy (Brookings, 2007; revised edition 2010; republished in Japanese 2014), and China: The Balance Sheet: What the World Needs to Know Now About the Emerging Superpower (Public Affairs, 2006). His next book, forthcoming with Oxford University Press in 2022, is entitled, Daring to Struggle: China's Global Ambitions Under Xi Jinping.
Dr. Gill received his Ph.D. in Foreign Affairs from the University of Virginia.
Publications
Edited Publications