Contact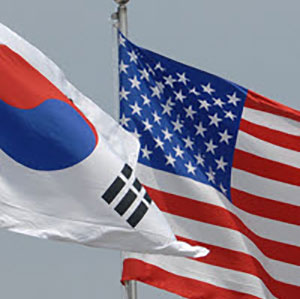 Commentary | Sep 24, 2018
U.S.-Korean Peninsula Relations
Reflections on the Moon–Kim Summit:Third Time's the Charm?
On September 21, 2018, the Foreign Affairs Congressional Staff Association (FACSA) and the National Bureau of Asian Research hosted an informational briefing on inter-Korean relations and implications to the United States following the third summit meeting (September 18–20) between President Moon Jae-in and Chairman Kim Jong-un.
The expert panelists provided a debrief of the summit, shared key takeaways, and addressed questions regarding North Korea's nuclear weapons and ballistic missile programs, regional security dynamics, and prospects for peace on the Korean peninsula.
Participants
Panelists
Emma Chanlett-Avery, Asian Affairs Specialist, Congressional Research Service
David Maxwell, Senior Fellow, Foundation for Defense of Democracies
Scott Snyder, Senior Fellow for Korea Studies and Director of the Program on U.S.-Korea Policy, Council on Foreign Relations
Moderator
Dan Aum, Director, Washington DC Office, The National Bureau of Asian Research
Speaker Bios
Emma Chanlett-Avery is a Specialist in Asian Affairs in the Foreign Affairs, Defense, and Trade division of the Congressional Research Service. She focuses on security issues in the region, including U.S. relations with Japan, the Korean Peninsula, Thailand, and Singapore.
Ms. Chanlett-Avery joined CRS in 2003 through the Presidential Management Fellowship, with rotations in the State Department on the Korea Desk and at the Joint U.S. Military Advisory Group in Bangkok, Thailand. She also worked in the Office of Policy Planning as a Harold Rosenthal Fellow. Ms. Chanlett-Avery received an MA in international security policy from the School of International and Public Affairs at Columbia University and her BA in Russian studies from Amherst College.
David Maxwell is a senior fellow at Foundation for Defense of Democracies. He is a 30-year veteran of the United States Army, retiring in 2011 as a Special Forces Colonel with his final assignment serving on the military faculty teaching national security strategy at the National War College.
Col. Maxwell is a fellow at the Institute of Corean-American Studies (ICAS) and on the Board of Advisors for Spirit of America. He is a member of the Board of Directors of the Committee for Human Rights in North Korea (HRNK), the International Council of Korean Studies (ICKS), the Council of U.S. Korean Security Studies, the Special Operations Association, the Small Wars Journal, and the OSS Society. He previously served as the Associate Director of the Security Studies Program at Georgetown University and for the past five years has taught a graduate course in Unconventional Warfare and Special Operations for Policy Makers and Strategists.
Col. Maxwell is a graduate of Miami University in Oxford, Ohio and holds MMAS degrees from the U.S. Army Command and General Staff College and the School of Advanced Military Studies and an MS degree in National Security Studies from the National War College of the National Defense University. He is currently pursuing his Doctorate of Liberal Studies (ABD) at Georgetown, writing a dissertation titled "The Statesman, the Strategist, and the Special Forces Soldier: A Philosophy of Unconventional and Political Warfare."
Scott Snyder is senior fellow for Korea studies and director of the program on U.S.-Korea policy at the Council on Foreign Relations (CFR), where he had served as an adjunct fellow from 2008 to 2011. Prior to joining CFR, Snyder was a senior associate in the international relations program of The Asia Foundation, where he founded and directed the Center for U.S.-Korea Policy and served as The Asia Foundation's representative in Korea (2000-2004). He has also provided advice to NGOs and humanitarian organizations active in North Korea and serves as co-chair of the advisory council of the National Committee on North Korea.
Mr. Snyder has authored and co-edited numerous book chapters and articles on aspects of Korean politics and foreign policy. His newest book, was released in January 2018, titled, South Korea at the Crossroads: Autonomy and Alliance in an Era of Rival Powers. He served as the project director for CFR's Independent Task Force on policy toward the Korean Peninsula. He currently writes for the blog, "Asia Unbound."
He received a BA from Rice University and an MA from the regional studies East Asia program at Harvard University and was a Thomas G. Watson fellow at Yonsei University in South Korea.
Dan Aum is Director of NBR's Washington, D.C., office. In this capacity, Mr. Aum leads NBR's engagement with the U.S. Congress and the media. He works closely with NBR's research group leaders and NBR's executive team to develop and implement nonpartisan outreach strategies that integrate congressional needs and perspectives.
Mr. Aum comes to NBR from Capitol Hill, where he managed a portfolio of thematic and regional issues related to foreign policy, international law, and human rights on the Tom Lantos Human Rights Commission. Previously, at Robert F. Kennedy Human Rights, Mr. Aum was on a strategic litigation team that brought cases before international and regional bodies, and led policy initiatives that involved regular engagement with government bodies and the media. He holds a JD from the George Washington University Law School and a BA in Philosophy from Baylor University.
---
FACSA is an officially recognized, bipartisan and bicameral organization tasked with providing networking opportunities, career guidance, briefings on key topics and other engagements for staffers to learn and grow as foreign policy professionals.
NBR is a nonprofit, nongovernment organization dedicated to informing and strengthening U.S. policy towards the Asia Pacific.
This event is made possible by the generous support of The Korea Foundation.