Contact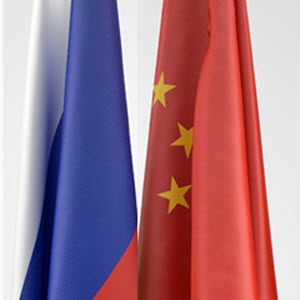 Brief | Feb 27, 2018
Russia-China Relations
What It Means for U.S. Strategy
On February 27, 2018, the Foreign Affairs Congressional Staff Association (FACSA), the National Bureau of Asian Research, and the Henry M. Jackson Foundation held an informational briefing to provide staff with an understanding of the motivations for and potential obstacles to cooperation between Russia and China, and the implications of this emerging relationship to the United States. President Trump's National Security Strategy released late last year identifies China and Russia as key competitors to the United States, and much has been made of these two important U.S. bilateral relationships. But the third leg of the triangleImdash;the links between Beijing and Moscow—remains underappreciated despite reassumed strength in recent years: both states share similar interests in their immediate neighborhood and harbor growing dissatisfaction with real or perceived constraints from the West on their geopolitical aspirations. Yet historical distrust and differing national priorities could impede a full-fledged alliance.
Speaker Bios
Lara Iglitzin has been the Executive Director of the Jackson Foundation since 1995. Arriving at the Foundation in 1992 as a program officer, she developed the Foundation's Russian human rights program in Russia. Ms. Iglitzin completed her undergraduate studies at the University of Washington in Russian and East European studies, and received Master's degrees in Russian history and Russian studies, from the University of Pennsylvania and Georgetown University, respectively. She specialized in U.S.-Soviet relations and early 20th century political history and her Master's thesis discussed the impact of the Jackson-Vanik Amendment on Soviet foreign policy. Prior to her work at the Foundation, Ms. Iglitzin managed the Congressional Roundtable on U.S.-Soviet Relations in Washington, D.C.
Ms. Iglitzin helped establish the Philanthropy for Active Civic Engagement and served as board president for three years. She was integral to the creation of the International Human Rights Funders Group and currently serves as trainer for Philanthropy Northwest in its Best Practices in Grantmaking workshops. Ms. Iglitzin has published many articles in national and regional publications on Russian politics, human rights, and philanthropy.
Robert Sutter is Professor of Practice of International Affairs at the Elliott School of George Washington University. He also serves as the school's Director, Program of Bachelor of Arts in International Affairs.
A Ph.D. graduate in History and East Asian Languages from Harvard University, Dr. Sutter taught full time for ten years at Georgetown University's School of Foreign Service and part-time for thirty years at Georgetown, George Washington, Johns Hopkins Universities, or the University of Virginia. He has published 20 books, over 200 articles and several hundred government reports dealing with contemporary East Asian and Pacific countries and their relations with the United States. His most recent book is Foreign Relations of the PRC: The Legacies and Constraints of China's International Politics since 1949 (Rowman and Littlefield 2013).
Dr. Sutter's government career (1968-2001) involved work on Asian and Pacific affairs and US foreign policy for the Congressional Research Service of the Library of Congress, the Central Intelligence Agency, the Department of State, and the Senate Foreign Relations Committee. He was for many years the Senior Specialist and Director of the Foreign Affairs and National Defense Division of the Congressional Research Service. He also was the National Intelligence Officer for East Asia and the Pacific at the US Government's National Intelligence Council, and the China Division Director at the Department of State's Bureau of Intelligence and Research.
Jeffrey Mankoff is Deputy Director and Senior Fellow with the CSIS Russia and Eurasia Program. He is the author of Russian Foreign Policy: The Return of Great Power Politics and a frequent commentator on international security, Russian foreign policy, regional security in the Caucasus and Central Asia, ethnic conflict, and energy security.
Before coming to CSIS, he served as an adviser on U.S.-Russia relations at the U.S. Department of State as a Council on Foreign Relations International Affairs Fellow. From 2008 to 2010, he was associate director of International Security Studies at Yale University and an adjunct fellow at the Council on Foreign Relations. In addition to his policy research, Dr. Mankoff teaches courses on international security and Central Asia at Georgetown University's School of Foreign Service. Dr. Mankoff has held academic fellowships at Harvard, Yale, and Moscow State Universities. He holds dual BAs in international studies and Russian from the University of Oklahoma and an MA, M.Phil., and Ph.D. in diplomatic history from Yale.
Dan Aum is Director of NBR's Washington, D.C., office. In this capacity, Mr. Aum leads NBR's engagement with the U.S. Congress and the media. He works closely with NBR's research group leaders and NBR's executive team to develop and implement nonpartisan outreach strategies that integrate congressional needs and perspectives.
Mr. Aum comes to NBR from Capitol Hill, where he managed a portfolio of thematic and regional issues related to foreign policy, international law, and human rights on the Tom Lantos Human Rights Commission. Previously, at Robert F. Kennedy Human Rights, Mr. Aum was on a strategic litigation team that brought cases before international and regional bodies, and led policy initiatives that involved regular engagement with government bodies and the media. He holds a JD from the George Washington University Law School and a BA in Philosophy from Baylor University.
---