Contact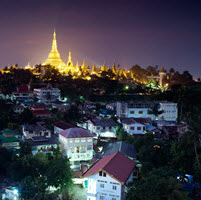 Report | Mar 25, 2014
Myanmar's Re-emergence: Prospects for U.S.-Myanmar Relations
NBR and the US-ASEAN Business Council co-hosted Myanmar's Re-emergence: Prospects for U.S.-Myanmar Relations, on March 25, 2014, in Washington, D.C. This discussion marked the roll-out of the NBR Special Report "Myanmar's Growing Regional Role," which assesses the current state of Myanmar and its role in Southeast Asia as 2014 ASEAN Chair.
The event featured remarks by the Honorable Kyaw Myo Htut, Ambassador of the Republic of the Union of Myanmar. It also featured a panel discussion on the emergence of Myanmar into the international economy and how the country's political and economic reforms open a window for the development of a more robust foreign policy and enhanced engagement with ASEAN, the United States, and the Asia-Pacific.
Speakers
The expert panel included:
Mely Caballero-Anthony, S. Rajaratnam School of International Studies
Carolyn Brehm, Procter & Gamble
Priscilla Clapp, U.S. Foreign Service (Ret.)
Catharin E. Dalpino, Foreign Service Institute
Meredith Miller, The National Bureau of Asian Research
Anthony Nelson, US-ASEAN Business Council
Morten Pedersen, University of New South Wales
Agenda
This event was made possible by: The Henry Luce Foundation, Chevron, and Procter & Gamble.