Dynamics of State Behavior in South China Sea Disputes
The South China Sea remains a highly complex and contested maritime domain, with several nations in the region competing to press their territorial claims. To better understand the dynamics of contestation among these states and develop effective policy responses, it is essential to assess the impact of their previous and current behaviors.
In a virtual event on May 17, 2022, Andrew Chubb discussed the dynamics of state behavior in South China Sea disputes, drawing on findings from the NBR Special Report "Dynamics of Assertiveness in the South China Sea: China, the Philippines, and Vietnam, 1970–2015" and accompanying Maritime Assertiveness Visualization Dashboard. Following his remarks, M. Taylor Fravel (Massachusetts Institute of Technology) and Shuxian Luo (The Brookings Institution) shared their responses to the report and offered brief remarks on maritime disputes and issues of contestation in the South China Sea. The event will conclude with a moderated Q&A discussion with all three experts.
Agenda
---
OPENING REMARKS
---
Alison Szalwinski, The National Bureau of Asian Research
---
REPORT PRESENTATION
---
Andrew Chubb, Lancaster University
---
EXPERT RESPONSES
---
M. Taylor Fravel, Massachusetts Institute of Technology
Shuxian Luo, The Brookings Institution
---
AUDIENCE Q&A
---
Moderator
Alison Szalwinski, The National Bureau of Asian Research
---

Andrew Chubb shares a screen from the Maritime Assertiveness Visualization Dashboard that accompanies the report as he discusses the report's findings.
---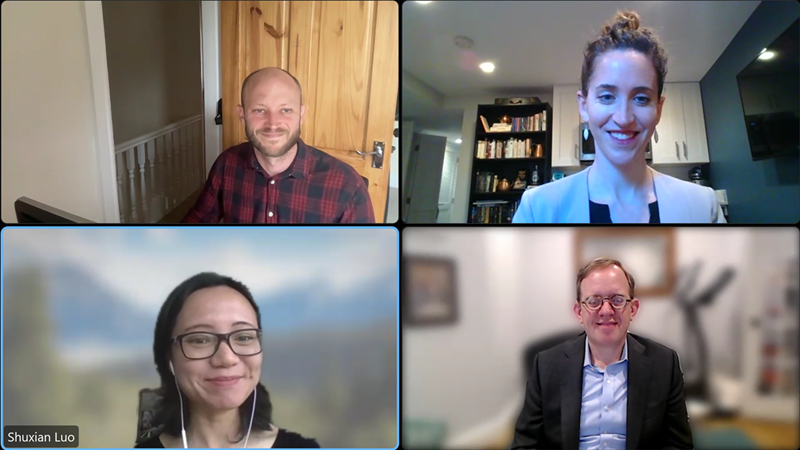 Moderator Alison Szalwinski (upper right) with Andrew Chubb, Shuxian Luo, and M. Taylor Fravel.
---
Speaker Bios
Andrew Chubb is a British Academy Postdoctoral Fellow at Lancaster University studying the role of domestic public opinion in international crisis diplomacy in the Asia-Pacific. Dr. Chubb's work broadly examines the linkages between Chinese domestic politics and international relations. More broadly, Dr. Chubb's interests include maritime and territorial disputes, strategic communication, and the Chinese Communist Party's political propaganda.
M. Taylor Fravel is the Arthur and Ruth Sloan Professor of Political Science and Director of the Security Studies Program at the Massachusetts Institute of Technology. He specializes in international relations with a focus on international security, China, and East Asia. Dr. Fravel is the author of numerous publications and books, including Strong Borders, Secure Nation: Cooperation and Conflict in China's Territorial Disputes, and Active Defense: China's Military Strategy Since 1949. He is a graduate of Middlebury College and Stanford University, where he received his PhD. He also has graduate degrees from the London School of Economics and Oxford University, where he was a Rhodes Scholar.
Shuxian Luo is a post-doctoral research fellow in the Foreign Policy program for the 2021-22 academic year at the Brookings Institution. She is also an adjunct lecturer at SAIS. Dr. Luo's research focuses on Chinese foreign policy especially crisis behavior and decision-making, maritime security in Indo-Pacific, and the United States' relations with Asia. Her work has appeared in Asian Security, Journal of Contemporary China, War on the Rocks, China Brief, and other publications.
Alison Szalwinski is Vice President of Research at NBR. Ms. Szalwinski provides executive leadership to NBR's policy research agenda and oversees research teams in Seattle and Washington, D.C. She is the author of numerous articles and reports and co-editor of the Strategic Asia series along with Ashley J. Tellis and Michael Wills. Prior to joining NBR, Szalwinski spent time at the U.S. Department of State and the Center for Strategic and International Studies. Her research interests include U.S. alliance relationships, U.S.-China relations, and the implications of great-power competition for U.S. alliances in the region. She holds a BA in Foreign Affairs and History from the University of Virginia and an MA in Asian Studies from Georgetown University's Edmund A. Walsh School of Foreign Service.