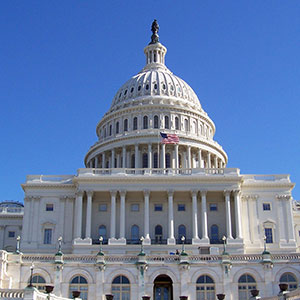 Testimony | Nov 15, 2017
China's Growing Energy and Geopolitical Impact in Xi Jinping's New Era
On December 5, 2017, NBR hosted a public panel discussion on "China's Growing Energy and Geopolitical Impact in Xi Jinping's New Era." The event marked the launch of the report from NBR's 2017 Energy Security Program, Asia's Energy Security and China's Belt and Road Initiative.
Audio
WELCOME

Andy Nguyen, The National Bureau of Asian Research

Clara Gillispie, The National Bureau of Asian Research
---
OPENING REMARKS
Congresswoman Ann Wagner (R–MO)
---
PANEL DISCUSSION
Moderator

Mikkal E. Herberg, The National Bureau of Asian Research
Panelists

Erica Downs

, CNA Corporation

Roy D. Kamphausen, The National Bureau of Asian Research

Fareed Mohamedi, The Rapidan Energy Group

Fei Yu, Asian Development Bank
---
Event Summary
Following opening remarks by Clara Gillispie, senior director of trade, economic, and energy affairs at NBR, Mikkal E. Herberg, research director for the Energy Security Program, introduced the panelists and set the tone for the discussion. He stated that China's Belt and Road Initiative (BRI) enlarges and advances China's energy footprint and investment, with profound implications for Eurasia and the Indo-Pacific maritime space. Mr. Herberg compared BRI to a Rorschach test: people who see China's expanding growth as relatively benign will tend to see its investments in infrastructure and power generation as beneficial to the development of regional countries. However, those who take a more cautious approach to China will tend to view some of the geopolitical and diplomatic engagements of the initiative in a nefarious light. The goal of NBR's 2017 Energy Security Program was to assess the real energy and geopolitical implications of Xi Jinping's signature foreign policy initiative.
The panel discussion began with remarks by Erica Downs (CNA Corporation) on the role of Chinese companies in international mergers and acquisitions. In particular, she analyzed why China's national oil companies (NOCs) stopped acquiring overseas assets from 2014 to 2016, why they continued purchases after that period, and how the next phase of acquisitions might look.
Dr. Downs stated that the slowdown in buying activity from China's NOCs (from an average of $20 billion per year from 2009 to 2013 to only $2.5 billion per year from 2014 to 2015) was a result of two main factors: (1) Xi's anticorruption campaign and (2) the collapse of oil prices in 2014.
The anticorruption campaign left vacancies in senior management and created a reluctance to conduct business activity that would attract the scrutiny of authorities. The collapse of oil prices left companies with less money to spend on acquisitions and increased the difficulty in valuing assets for both buyers and sellers. Now that oil prices have stabilized at higher levels and Xi's anticorruption campaign has moved beyond the oil sector, China's NOCs are slowly resuming international deals. Dr. Downs argued that this buying phase will be characterized by greater supply anxiety, discipline from company leadership, and a desire for more partnerships between China's NOCs and other firms (both foreign and domestic).
The second half of her remarks focused on the activity of private Chinese oil companies, mainly that of CEFC China Energy. Dr. Downs noted that while Chinese NOCs largely ceased international acquisitions from 2014 to 2016, private companies became more active during these years. The leading private entity to emerge in this period was CEFC China Energy, which she believes will remain an important player in this space. She concluded that even in the absence of BRI, much of the recent activity by China's oil companies would have likely occurred anyway. With BRI now in place, these companies will simply link any overseas activity to the initiative in order to show support for Xi and to position themselves to access funding for BRI projects.
Fareed Mohamedi (The Rapidan Energy Group) focused his remarks on China's energy relations with the Gulf region, specifically Saudi Arabia. First, he explained that Saudi Arabia's main goal is to maintain market share—the ability to supply its own system and then secure as much market share as it can from Asia. To accomplish that goal, Saudi Arabia developed a downstream oil policy focused on refinery acquisitions, which it hoped would lead to 100% coverage of exports and production within its own system.
Although it has been successful with some of its refineries throughout Asia—including two refineries in China—Mr. Mohamedi stated that Saudi Arabia has become frustrated with China in recent years. Unlike in the 2000s, when there was an energy shortage, China is no longer preoccupied with energy insecurity. He emphasized that in some respects the United States' oil abundance has actually helped China more than any other country, since it has given China a plethora of options beyond Saudi Arabia and the Gulf. For Saudi Arabia, this loss of preferential treatment has led the country to try to diversify its Asian partners to now include Malaysia, Indonesia, and India, among others.
Mr. Mohamedi also noted that recently China's BRI and Saudi Arabia's Vision 2030 have somewhat altered the relationship between the two countries by creating more opportunities for China and Saudi Arabia to do business—not just in energy matters but also in finance, industrial investments, and other parts of the economy.
Fei Yu (Asian Development Bank) spoke about the multilateral approach to engaging with BRI and the impact of China's energy policies on regional energy outlooks. She explained that large projects focusing on regional connectivity and integration—a core component of BRI—have been implemented in Asia in the past. For example, the Asian Development Bank mobilized over $30 billion over the years to enhance transportation infrastructure, energy connectivity, and trade to support regional integration and development. Specific programs include the Greater Mekong Subregion Economic Program from the early 1990s and the Central Asia Regional Economic Cooperation Program from the 2000s.
A key distinguishing feature of BRI is its promise of more than $1 trillion in investment—an ambitious goal that has dominated the narrative in regional countries. Dr. Yu also noted that China's willingness to share the risk in developing major infrastructure projects has had a positive effect on the region's economic and energy outlook. However, she also emphasized that BRI is a key component of China's own social and economic goals, and that the connected projects are foremost designed to advance Chinese interests.
Dr. Yu then shifted the focus of her remarks toward China's energy policies, highlighting that in recent years Beijing has aggressively implemented policies to fight pollution and cut emissions. For example, coal use in China has declined as the country continues to retire outdated and inefficient coal mines. In the long run, we can expect coal consumption to continue to fall. In line with Beijing's efforts to crack down on pollution, Dr. Yu noted that natural gas use has been rising, with imports increasing by 27% in 2017. China has also been a global leader in renewables development and is expected to be a major market for electric vehicles in the future. She concluded that China's energy system has and will continue to evolve toward a cleaner energy mix, and this trend will have major implications for global energy systems.
Roy D. Kamphausen (NBR) provided an analysis of the maritime security dimensions of China's growing power, including implications for the United States and the Indo-Pacific region. He emphasized that the work report for China's 19th Party Congress provides Xi Jinping's personal ideas for the way forward and thus should be taken seriously. Having Xi's name enshrined into the party charter shows that the document will be authoritative in real time.
Additionally, Mr. Kamphausen noted that Xi's objective to build the People's Liberation Army (PLA) into a world-class fighting force under good political control is not necessarily a new concept. Moreover, it does not necessarily mean that the PLA will be a more assertive or aggressive military. Instead, he explained that this approach would almost certainly translate into a more outward-oriented armed force, accelerating a progression that has been underway for the past two decades.
This acceleration of the PLA's outward activity has direct implications for how we think about BRI and maritime security issues. First, Mr. Kamphausen highlighted that when thinking about how to secure the overland components of BRI, the PLA uses at least 3 models: (1) rely exclusively on PLA units, (2) employ a host-nation's military, and (3) employ Chinese private security firms (a more forward-looking model). Applying these approaches to the maritime domain, he argued that it is highly unlikely that China will pursue private contracting in this space. Instead, its maritime security strategy will focus largely on host-nation support, especially in securing port facilities and littoral areas. Mr. Kamphausen noted that there has already been cooperation on ports in the Indian Ocean region, such as in Gwadar, Sri Lanka, and the Chinese base in Djibouti. In addition, he stated that the PLA Navy will be much more involved in counterpiracy efforts and noncombatant evacuation operations, which will create its own dynamics over time. Mr. Kamphausen concluded his remarks by arguing that a key challenge for the United States will be to avoid conflating U.S.-China security challenges with BRI countries' desire for investment in energy infrastructure.
The public discussion focused largely on the impact of the partnerships between Chinese companies and their foreign counterparts. Dr. Downs commented that the partnerships between China's NOCs and international oil companies would likely benefit all parties involved. Each side brings to the table expertise that the other lacks, including knowledge of a specific supply chain, exposure to different geographic regions, and experience with executing high-profile projects overseas. Finally, the panel emphasized the importance of further research and discussion to break down biases and analyze the real implications China's broader geopolitical reach.
Agenda