Cathy Allen and Randy J. Pepple Address Gorton Center Global Leaders Class
On November 14, 2018, the Gorton Center Global Leaders Program (GLP) class heard from Cathy Allen and Randy J. Pepple, who shared in-depth analysis of the U.S. midterm elections. The Gorton Center extends a special thanks GLP alumni David Kirichenko and Maggie Douglas for visiting the class.
Cathy Allen is President and Owner of the Connections Group, Inc. She has spent the past twenty years working to help communities, governments, nonprofit associations, and women's groups better communicate to the press, the public, and politicians. Cathy's background includes: co-founder of the Center for Women & Democracy at the University of Washington; trainer for the National Democratic Institute in the Middle East and North Africa; and noted author, speaker and television political pundit.
Randy J. Pepple is a strategic communications professional with three decades of experience in public affairs consulting, policy advocacy, media relations, and political campaigns. Pepple is executive director of the Reform Alliance, a nonprofit policy advocacy group he co-founded with former Washington State Attorney General Rob McKenna. He managed McKenna's 2012 governor campaign and previously served as his chief of staff.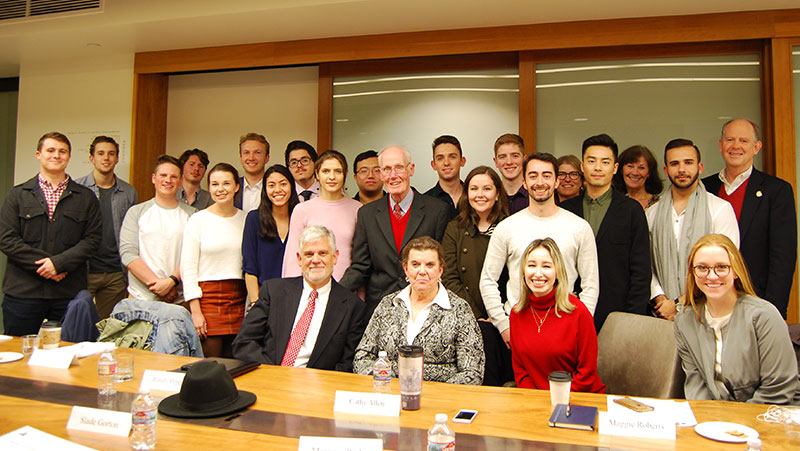 Slade Gorton, Randy Pepple, and Cathy Allen with Gorton Center Global Leaders Program Fellows.