Analyzing China's Strategic Ambitions
China's actions in the South China Sea, on its border with India, in the Arctic and its establishment of a military base in the Horn of Africa are all indications of a more militarily assertive China that will have important impacts on the international order. During the pandemic the country has taken numerous opportunities to project its growing military capabilities. For example, it repeatedly sent warplanes into Taiwanese airspace and used an overwhelming number of fishing vessels to occupy a reef in the South China Sea claimed by the Philippines. Western leaders are at odds about how to interpret China's actions and wonder how China might project its military capabilities in the future.
On June 22, 2021, the Washington State China Relations Council and the National Bureau of Asian Research convened a discussion with NBR president Roy D. Kamphausen and Tiffany Ma, senior director at BowerGroupAsia, on China's strategic goals, the trajectory of its expanding military and how it might be used in the future.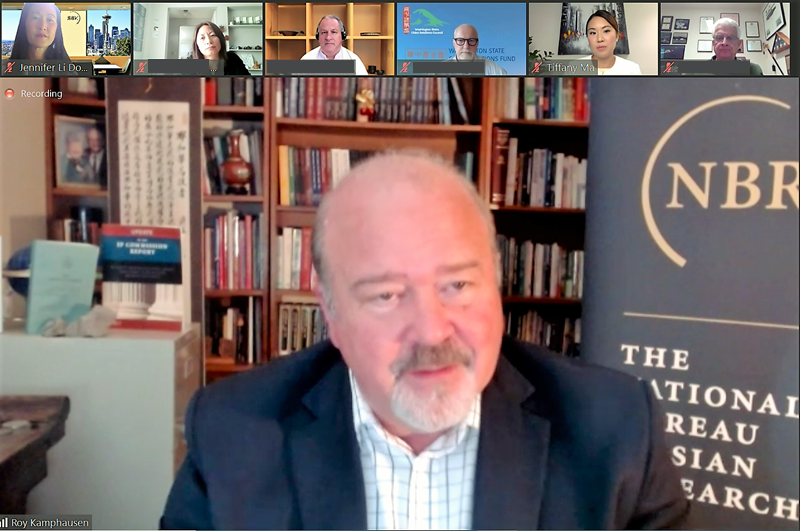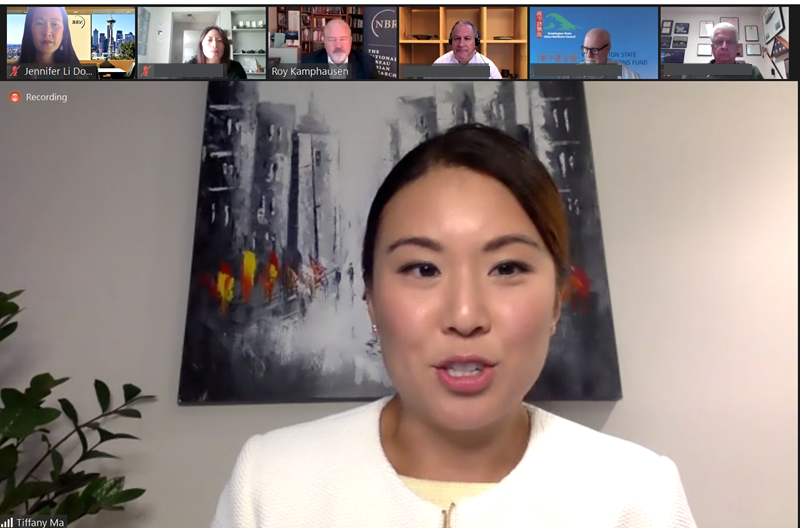 About the Speakers
PANELISTS
Roy D. Kamphausen is President of the National Bureau of Asian Research (NBR). Mr. Kamphausen joined NBR in 2004 and formerly served as Senior Vice President for Research.
In April 2018, Mr. Kamphausen was appointed by Senate Majority Leader Mitch McConnell to be a Commissioner on the U.S.-China Economic and Security Review Commission.
Mr. Kamphausen lectures regularly at leading U.S. military institutions, including the U.S. Military Academy (West Point) and the U.S. Army War College. He also regularly briefs members of Congress and advises leaders in the U.S. Department of Defense.
Prior to joining NBR, Mr. Kamphausen served as a career U.S. Army officer. As a China foreign area officer, his career included assignments as China policy director in the Office of the Secretary of Defense, China strategist for the chairman of the Joint Chiefs of Staff, and a military attaché at the U.S. Embassy in Beijing.
Mr. Kamphausen holds a BA in Political Science from Wheaton College and an MA in International Affairs from Columbia University. He studied Chinese at both the Defense Language Institute and Beijing's Capital Normal University. He is a member of the National Committee on U.S.-China Relations.
Tiffany Ma is senior director at BowerGroupAsia, where she manages BGA's client relationships and engagements. She directs analyses and activities designed to advise Fortune 500 companies on public policy issues, regional geopolitics and stakeholder management. She is also a non-resident fellow at the National Bureau of Asian Research, a non-profit and non-partisan think tank dedicated to strengthening U.S. policy in the Asia-Pacific.
Tiffany regularly writes and speaks on China-Taiwan relations, U.S.-China relations, and Asia-Pacific maritime security. She has testified on U.S.-Taiwan relations before the House Subcommittee on Asia and the Pacific and has been featured in both U.S. and international media outlets.
Prior to joining BGA, Tiffany was the senior director for political and security affairs at NBR in Washington, D.C., where she led major initiatives on geopolitical and international security affairs in the Asia-Pacific that regularly convened senior government officials and specialists from across the region. She began her career as a research associate at the Project 2049 Institute, an Asia security think tank based in Arlington, Virginia, and has also worked at the International Crisis Group in Beijing, the Center for Strategic and International Studies in Washington, and the Lowy Institute in Sydney.
Tiffany holds a master's degree in public policy from the Harvard Kennedy School, where she was also a public service fellow and a Belfer student fellow. She holds bachelor's degrees in international relation and psychology from the University of New South Wales in Sydney, Australia. She reads and speaks Mandarin Chinese.
MODERATOR
Demetri Sevastopulo is the Financial Times correspondent covering all aspects of U.S.-China relations, ranging from foreign policy, security and intelligence to trade, technology, economics and business. Demetri took up this newly-created post in Washington after serving as Washington Bureau Chief from 2015 to 2021.
He has spent 14 years in Washington, including covering the Pentagon and intelligence agencies during the Bush administration. After six years in Hong Kong and China, as South China Correspondent and Asia News editor, he returned to Washington to cover U.S. politics, including the 2016 and 2020 elections. He has interviewed everyone from Chinese factory workers and Iowa farmers to Donald Rumsfeld and Donald Trump.
Demetri began his career as a currency trader at Citibank in Tokyo. He later covered the Japanese economy for Bloomberg. He has an MA in East Asian studies from Harvard University where he taught Japanese and Chinese history to undergraduates. He studied Chinese at Beijing University and Japanese at Sophia University. He speaks near-native Japanese, rusty Mandarin Chinese and basic Cantonese. Despite his Greek name, Demetri was born and raised in Ireland and graduated from Trinity College, Dublin.
---
Banner image: Foreign Policy / Getty Image