Contact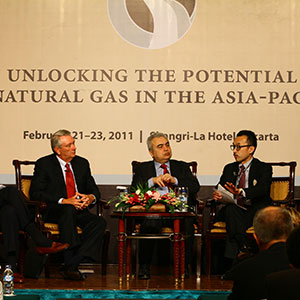 Report | Apr 1, 2011
2011 Pacific Energy Summit
World leaders in science, policy, and industry convened in Jakarta, Indonesia, on February 21–23, 2011, to discuss the topic "Unlocking the Potential of Natural Gas in the Asia-Pacific" at the 2011 Pacific Energy Summit. Taking place over the course of three days in a personal and interactive environment, the Summit prompted frank, pragmatic, and forward-looking discussions to address four core foci:
Natural gas as an energy source for transitioning to a low-carbon economy
The potentially growing role of natural gas to meet rising energy demand, as an increasingly abundant resource
The fiscal, regulatory, and legal steps Asia-Pacific nations must take to ensure adequate natural gas supplies alongside the investment, infrastructure, and planning needed to unlock the potential of an abundant resource
Current and projected domestic natural gas markets, how to support the development of greater demand for natural gas, particularly in the power sector
Summit Papers
Natural Gas in Asia: History and Prospects
Mikkal Herberg, The National Bureau of Asian Research; University of California – San Diego
Asian Natural Gas—Supply, Infrastructure and Pricing Issues
James Jensen, Jensen Associates
Evolving Roles of LNG and Asian Economies in Global Natural Gas Markets
Hiroshi Hashimoto, Gas Group, Institute of Energy Economics, Japan – IEEJ
Europe's Evolving Gas Market: Future Direction and Implications for Asia
Peter Hughes, Ricardo Strategic Consulting
The Policy Tightrope in Gas-Producing Countries: Stimulating Domestic Demand Without Discouraging Supply
Mark Thurber and Joseph Chang, Program on Energy and Sustainable Development, Stanford University
Unconventional Gas and Implications for the LNG Market
Alexis Aik and Christopher Gascoyne, FACTS Global Energy
Featured Speakers and Attendees
Fatih Birol, International Energy Agency
Admiral Dennis Blair, NBR Board of Directors
Dato' Sri Peter Chin Fah Kui, Ministry of Energy, Green Technology and Water, Malaysia
Andy Gibson, ExxonMobil Oil Indonesia Inc.
Stephen Green, Chevron Indonesia Company
Mikkal Herberg, The National Bureau of Asian Research; University of California, San Diego
Syed Yusuf Hossain, Bangladesh Energy Regulatory Commission
Atty. Francis Saturnino C. Juan, Philippines Energy Regulatory Commission
Gabriel Kapris, Ministry of Commerce and Industry, Papua New Guinea
Ken Koyama, The Institute of Energy Economics, Japan
Jack Lewnard, Gas Technology Institute
Tadashi Maeda, Japan Bank for International Cooperation
Tatsuo Masuda, Nagoya University of Commerce and Business Graduate School; JAPEX Advisor
Bruce McConaghy, Petromin PNG Holdings Limited
R. Priyono, BPMigas
Daniel Purba, PT Pertamina
Luluk Sumiarso, Ministry of Energy and Mineral Resources, Indonesia
Gita Wirjawan, Indonesia Investment Coordinating Board
Sin Foong Wong, International Finance Corporation, World Bank Group
Yongfa Xu, China National Petroleum Corporation Research Institute of Economics and Technology
Satya W. Yudha, House of Representatives, Indonesia
Download Handouts & Presentations
2011 Sponsors and Collaborating Institution
The 2011 Pacific Energy Summit is generously supported by Chevron, ExxonMobil, Japan Bank for International Cooperation, PT Pertamina (Persero), and Star Energy.
The Foundation of Indonesian Institute for Energy Economics is a 2011 Summit collaborating institution.
Lead Sponsors

Sponsoring Organizations

Supporting Organizations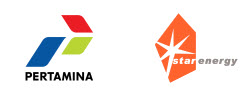 Collaborating Institution