Paper from the 2013 Pacific Energy Summit
The U.S.-Canada Energy Relationship and the Growing Role for Asia

This working paper by James Slutz (Global Energy Strategies LLC) was commissioned for the 2013 Pacific Energy Summit on "Forging Trans-Pacific Cooperation for a New Energy Era." The paper addresses the current state of the U.S.-Canada energy trade relationship and examines the growth and implications of greater Asian energy investment in North America.
EXECUTIVE SUMMARY
MAIN FINDINGS
The U.S.-Canada trade relationship is critically important to both countries and will remain so for the
foreseeable future. The U.S. and Canada are among the top ten global energy producers and their energy
trade relationship has grown because of free trade and geography. Both Canada and the U.S. are
increasingly reliant on foreign investment to develop their resource sectors, and Asia has been an
important source of capital. Asian investors initially focused on project investments as minority jointventure
partners but are showing increasing interest in owning production companies. Asian investors'
objectives for investing in the North American energy sector include both attractive financial returns on
investment as well as an interest in North America as an energy supply source for their economies. The
expanding energy investment and trade between North America and Asia can be mutually beneficial.
POLICY IMPLICATIONS
• The U.S. and Canada must continue to support and nurture their energy trade relationship. Failure
to support new trade-enabling infrastructure will have an adverse impact on the bilateral
relationship.
• Uncertainty created by the delay on the Keystone XL pipeline permit decision is directly
responsible for Canada accelerating efforts to export oil-sands oil to Asia. As the U.S. is the
exclusive buyer of Canadian oil, the delay has created a sense of vulnerability and concern in
Canada.
• Investment in upstream oil and gas projects by Asian companies is becoming more accepted,
including the majority ownership of companies.
• North American governments will continue to closely review major acquisitions involving
foreign entities that are state companies or closely connected with a foreign government.
• North American government action approving energy exports or infrastructure required to
facilitate exports will be critical to the future of the expansion of North American and Asian
energy trade.
• North American producers need to help Asian investors understand the challenges and recent
advances in environmental and community engagement to minimize miscommunication on the
pace of development of energy-extraction projects.>
INFOGRAPHIC
Asian Investments in North American Energy Resources
Drawing on data from James Slutz's working paper for the 2013 Pacific Energy Summit, this interactive infographic details the fifteen primary oil and gas investment transactions in the U.S. and Canada involving an Asian investor or buyer. Click the image.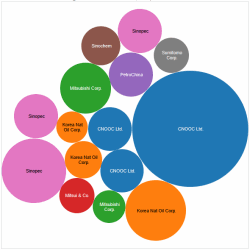 ---
James Slutz is the President and Managing Director of Global Energy Strategies LLC, where he focuses on
technology commercialization and strategic energy advisory services. He is also a Fellow at the Forum for
Innovation, which is part of the U.S. Chamber of Commerce, and a Distinguished Associate at FACTS Global
Energy. In addition, Mr. Slutz serves on the advisory boards of the Canada Institute of the Woodrow Wilson
International Center for Scholars, Hart Energy Publishing, and the University of Southern California's Induced
Seismicity Project. Previously, he served as an Assistant Secretary of Energy in the United States.
This working paper was commissioned by the Asia Pacific Foundation of Canada (APF Canada) and The
National Bureau of Asian Research (NBR) for the 2013 Pacific Energy Summit. The views in this paper
are those of the author and not necessarily those of APF Canada or NBR.