Contact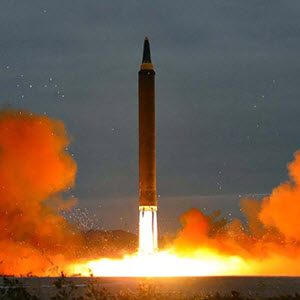 Brief | Jun 14, 2019
The China-Russia Entente
Impact of Sino-Russian Cooperation on East Asian Security and the United States
On June 14, 2019, the Foreign Affairs Congressional Staff Association (FACSA), the Jackson Foundation, Korea Foundation, and the National Bureau of Asian Research (NBR) hosted an informational briefing on Sino-Russian cooperation on North Korea policy. The discussion focused on how Chinese and Russian shared values and interests nurture a system of adaptive coordination regarding the resolution of the North Korean nuclear crisis, and how this coordination impacts U.S. policy in the region.
American interests in Asia are being challenged in new and asymmetric ways by China and Russia's cooperation on the nuclear issue. This relationship poses multilayered challenges to U.S. policy on the Korean peninsula, and in Asia more broadly, including the goal of denuclearization of the DPRK. The expert panelists provided a brief overview of the challenges posed by the Sino-Russian partnership, discussed how this partnership can be applied to U.S.-China and U.S.-Russia competition, and provided a look at what role Congress can play in responding to this new layer of Asia security policy.
Participants
Panelists
Robert Sutter, Professor of Practice of International Affairs, Elliott School, George Washington University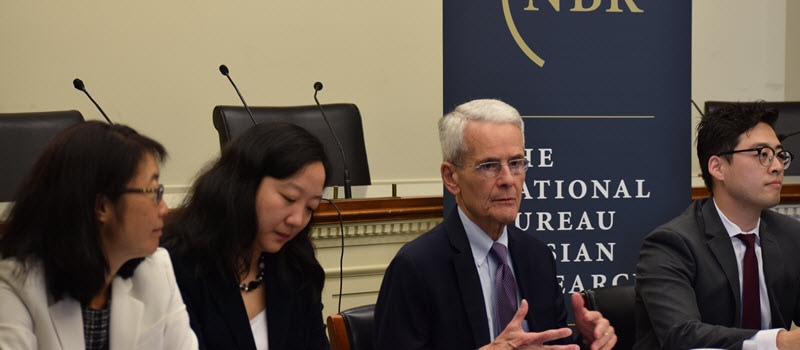 ---
Yuki Tatsumi, Senior Fellow and Director of Japan Program, The Stimson Center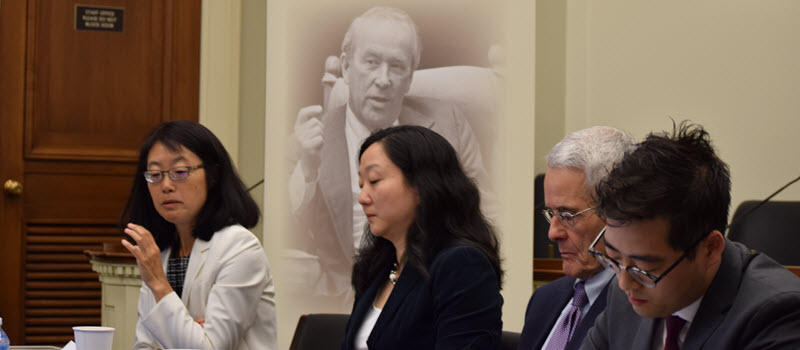 ---
Yun Sun, Senior Fellow and Director of China Program, The Stimson Center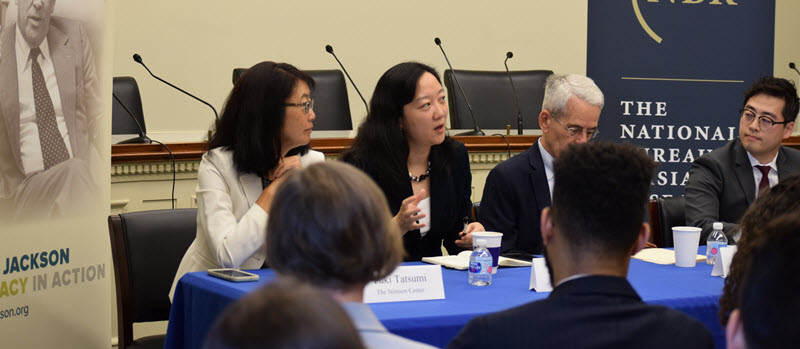 ---
Moderator
Dan Aum, Director, Washington DC Office, The National Bureau of Asian Research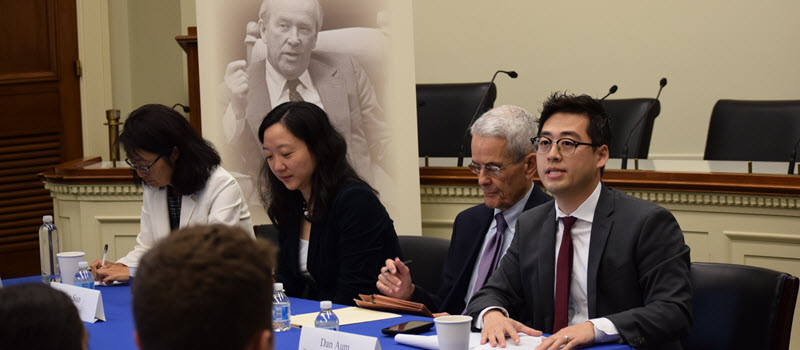 ---
Speaker Bios
Robert Sutter is Professor of Practice of International Affairs at the Elliott School of George Washington University beginning in 2011. He also serves as the school's Director, Program of Bachelor of Arts in International Affairs. A Ph.D. graduate in History and East Asian Languages from Harvard University, Sutter taught full time for ten years at Georgetown University's School of Foreign Service and part-time for thirty years at Georgetown, George Washington, Johns Hopkins Universities, or the University of Virginia. He has published 21 books, over 200 articles and several hundred government reports dealing with contemporary East Asian and Pacific countries and their relations with the United States. His most recent books are: Foreign Relations of the PRC: The Legacies and Constraints of China's International Politics since 1949 (Rowman & Littlefield 2018); US-China Relations: Perilous Past, Uncertain Present (Rowman & Littlefield 2018); Chinese Foreign Relations: Power and Policy. Since the Cold War (Rowman & Littlefield 2016); The United States and Asia; Regional Dynamics and 21st Century Relations (Rowman & Littlefield 2015).
Yuki Tatsumi is a Senior Fellow and Co-Director of the East Asia Program and Director of the Japan Program at the Stimson Center. Before joining Stimson, Tatsumi worked as a research associate at the Center for Strategic and International Studies (CSIS) and as the special assistant for political affairs at the Embassy of Japan in Washington. Tatsumi's most recent publications include: Balancing Between Nuclear Deterrence and Disarmament: Views from the Next Generation (ed.; Stimson Center, 2018) Lost in Translation? U.S. Defense Innovation and Northeast Asia (Stimson Center, 2017). She is also the editor of four earlier volumes of the Views from the Next Generation series: Peacebuilding and Japan (Stimson Center, 2017), Japan as a Peace Enabler (Stimson Center, 2016), Japan's Global Diplomacy (Stimson Center, 2015), and Japan's Foreign Policy Challenges in East Asia (Stimson Center, 2014). She is author of Opportunity out of Necessity: The Impact of U.S. Defense Budget Cuts on the U.S.-Japan Alliance (Stimson Center, 2013), and much more. A native of Tokyo, Tatsumi holds a B.A. in liberal arts from the International Christian University in Tokyo, Japan and an M.A. in international economics and Asian studies from the Paul H. Nitze School of Advanced International Studies (SAIS) at Johns Hopkins University in Washington.
Yun Sun is a Senior Fellow and Co-Director of the East Asia Program and Director of the China Program at the Stimson Center. Her expertise is in Chinese foreign policy, U.S.-China relations and China's relations with neighboring countries and authoritarian regimes. From 2011 to early 2014, she was a Visiting Fellow at the Brookings Institution, jointly appointed by the Foreign Policy Program and the Global Development Program, where she focused on Chinese national security decision-making processes and China-Africa relations. From 2008 to 2011, Yun was the China Analyst for the International Crisis Group based in Beijing, specializing on China's foreign policy towards conflict countries and the developing world. Prior to ICG, she worked on U.S.-Asia relations in Washington, DC for five years. Yun earned her master's degree in international policy and practice from George Washington University, as well as an MA in Asia Pacific studies and a BA in international relations from Foreign Affairs College in Beijing.
Dan Aum is Director of NBR's Washington, D.C., office. He leads NBR's engagement with the U.S. Congress and the media. He works closely with NBR's research group leaders and NBR's executive team to develop and implement nonpartisan outreach strategies that integrate congressional needs and perspectives. Mr. Aum comes to NBR from Capitol Hill, where he managed a portfolio of thematic and regional issues related to foreign policy, international law, and human rights on the Tom Lantos Human Rights Commission. Previously, at Robert F. Kennedy Human Rights, Mr. Aum was on a strategic litigation team that brought cases before international and regional bodies, and led policy initiatives that involved regular engagement with government bodies and the media. He holds a JD from the George Washington University Law School and a BA in Philosophy from Baylor University.
---
FACSA is an officially recognized, bipartisan and bicameral organization tasked with providing networking opportunities, career guidance, briefings on key topics and other engagements for staffers to learn and grow as foreign policy professionals.
The Jackson Foundation was founded in 1983 to continue the unfinished work of the late Senator Henry M. "Scoop" Jackson in the areas in which he played a key leadership role: international affairs education, human rights, environment and natural resources management, and public service. Through its grant-making and strategic initiatives, the Foundation seeks to make a lasting impact and perpetuate the Jackson legacy for the benefit of future generations.
The Korea Foundation is a non-profit public diplomacy organization established in 1991 to promote a better understanding of Korea and strengthen friendships in the international community. The Foundation carries out various projects for exchange between the Republic of Korea and foreign countries to cultivate mutual understanding.
NBR is a nonprofit, nonpartisan research institution dedicated to informing and strengthening policy in the Asia-Pacific. NBR conducts advanced independent research on strategic, political, economic, globalization, health, and energy issues affecting U.S. relations with Asia.