Engaging Asia 2015: Pacific Power
U.S. Alliances and Partnerships in Asia
On September 30, NBR hosted Engaging Asia 2015, a public discussion on how Congress should approach U.S. engagement in the Asia-Pacific over the coming year. Engaging Asia 2015 convened members of Congress, diplomats, senior congressional staff, and leading scholars to provide high-level analysis and policy recommendations for future U.S. engagement in the region. The event was followed by hors d'oeuvres and a cocktail reception.
Engaging Asia 2015, the seventh annual conference in the Engaging Asia series, highlighted:
complications over aggressive island building in the South China Sea and the implications for China's neighbors,
the future of economic partnerships beyond the Trans-Pacific Partnership, and
the importance of congressional leadership in strengthening the U.S. rebalance to Asia.
Audio
OPENING KEYNOTE
Congresswoman Tulsi Gabbard
---
PANEL ONE: Island Building in the South China Sea: Developing a Robust Engagement Strategy
---
SPECIAL REMARKS
Congressman Paul Ryan
---
PANEL TWO: Economic Partnerships in the Asia-Pacific Beyond the TPP
---
CLOSING REMARKS
Congressman Matt Salmon
---
Speakers
Speakers included:
Congresswoman Tulsi Gabbard (D-HI)
Congressman Paul Ryan (R-WI), Chairman of the House Ways and Means Committee
Congressman Matt Salmon (R-AZ), Chairman of the House Foreign Affairs Subcommittee on Asia and the Pacific
Ambassador Ashok Kumar Mirpuri, Embassy of the Republic of Singapore
Representative Lyushun Shen, Taipei Economic and Cultural Representative Office
Ozge Guzelsu (comments off-the-record), Senate Armed Services Committee
Carolyn Leddy (comments off-the-record), Senate Foreign Relations Committee
Michael Schiffer (comments off-the-record), Senate Foreign Relations Committee
Roy Kamphausen, The National Bureau of Asian Research
Nadege Rolland, The National Bureau of Asian Research
Event Sponsor
---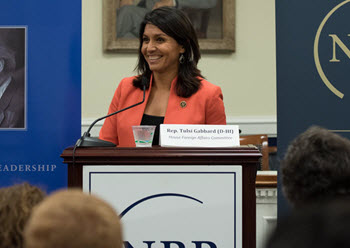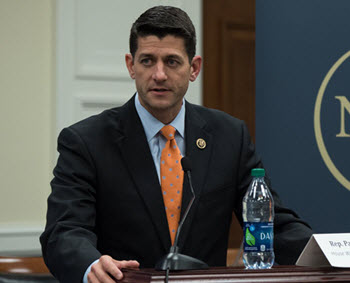 Rep. Paul Ryan (R-WI)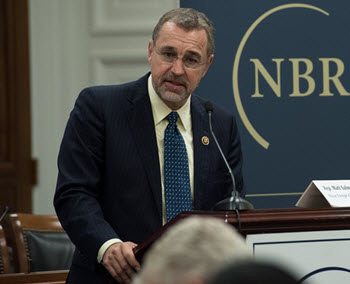 Rep. Matt Salmon (R-AZ)