Admiral Greenert Evaluates University of Washington Student Report on Maritime Security
NBR's John M. Shalikashvili Chair in National Security Studies seeks to inform and strengthen the formation of American national security strategy, while also contributing to NBR's commitment to train the next generation of Asia specialists. This past winter quarter, January to March 2017, NBR partnered with the Henry M. Jackson School of International Studies on the school's senior capstone project, Task Force.
Task Forces consist of small groups of about 15 students who investigate a real-world policy issue and produce a final report with practical policy recommendations. The report is then evaluated by a visiting outside expert—typically a serving or retired high-ranking U.S. diplomat, policymaker, NGO leader, or prominent think tank member. Task Force students present a two-hour oral briefing for their expert evaluator. After the briefing the evaluator engages students in discussion and debate and provides feedback on the content and presentation. Task Force has been part of the International Studies major since 1983. In its early years NBR President Rich Ellings helped shape the program, which was initially established by UW Professor Donald Hellmann, who also serves on NBR's Advisory Board.
On March 10, 2017, Admiral Jonathan Greenert, the 30th Chief of Naval Operations and current holder of the Shali Chair, evaluated the Task Force report on "Maritime Security in the Asia-Pacific: A Navigational Map for the New U.S. Administration." The course was taught by Tabitha Mallory, a Fellow in NBR's Political and Security Affairs Program who specializes in ocean governance. The students used NBR's Maritime Awareness Project as a key component of their curriculum.
Admiral Greenert remarked on the experience, "Listening to the insightful yet pragmatic analysis of the task force's work on a U.S. maritime strategy for the Info-Pacific region was inspiring. Afterward, while walking the campus with the students it became clear to me that the University of Washington has an enormous talent pool for Asia-Pacific research and analysis. They are ready and eager to make a difference."
Read the students' task force report:
Maritime Security in the Asia-Pacific: A Navigational Map for the New U.S. Administration.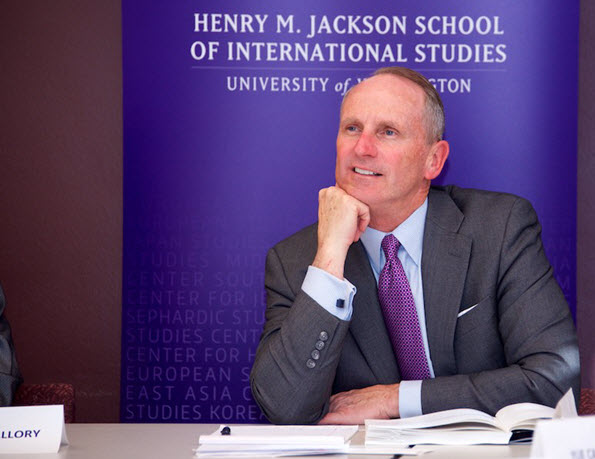 Admiral Jonathan Greenert, NBR Shali Chair, during the Maritime Security Task Force evaluation.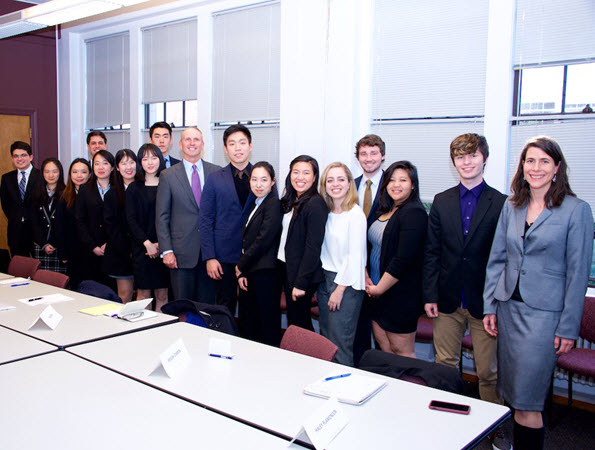 The Maritime Security Task Force team (left to right): Adam Khan, Yinong Su, Yingshi Liu, Bruno Fiorentini, Helen Lui, Jessica Soonsoo Park, Yue Cassie Xing, Min Seung Kim, Admiral Jonathan Greenert, Nanpeng Zhu, Ruomi Li, Megan Condon, Haley Plamondon, Tyler Lincoln, Dewi Ali, Stephen Cuplin, and Instructor Tabitha Mallory.
About the Shali Chair
NBR endowed the John M. Shalikashvili Chair in National Security Studies in April 2006 to honor General Shalikashvili for his 39 years of military service to our nation that culminated in his role as Chairman of the Joint Chiefs of Staff, for his leadership on the NBR Board of Directors, and for his role as Senior Advisor to NBR's Strategic Asia Program. The Chair provides a platform for a distinguished practitioner in the national security field to inform, strengthen, and shape the understanding of U.S. policymakers on critical current and long-term national security issues related to the Asia-Pacific. Learn more.