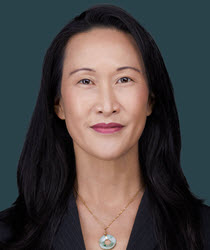 Jennifer Li Dotson is Vice President of Philanthropy at NBR.
In this role, she provides executive leadership to shape and develop NBR's institutional fundraising efforts in Seattle and Washington, D.C.
Ms. Dotson previously worked at the U.S.-China Business Council, the American Chamber of Commerce in Hong Kong, and the U.S. Embassy in London. Her nonprofit development experience includes serving with the National Kidney Foundation, American Red Cross, Muscular Dystrophy Association, and Mothers Against Drunk Driving. She holds a BS in Foreign Service from Georgetown University and an MS in Comparative Political Economics from the London School of Economics and Political Science. Outside of work, she enjoys dancing hula, standup paddle boarding, and competing in triathlons.